Obaseki Congratulates Bose Oviasu On Emergence As First Female President Of ENAW
Posted on April 5, 2022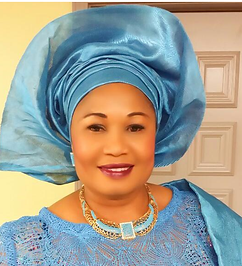 The Edo State Governor, Mr. Godwin Obaseki, has congratulated Engr. (Mrs.) Bose Ogbeifun Oviasu on her emergence as the first female president of Edo National Association Worldwide (ENAW).
In a statement, the governor said "the development reflects the new thinking of the modern era of the Edo Nation, which takes pride in opening up the space and ensuring opportunities for women to hold key, strategic positions to deploy their skill and expertise in pursuit of progress, growth and advancement".
According to him, "I congratulate Engr. (Mrs.) Bose Ogbeifun Oviasu on her election as President of Edo National Association Worldwide (ENAW) during the association's election which was held on April 2, 2022″.
"The emergence of Mrs. Oviasu as the first female President of the ENAW is as profound as it is liberating, setting the association apart as a progressive socio-cultural organization that espouses gender equality and inclusion."
Obaseki noted that Mrs. Oviasu has shown exemplary leadership in philanthropic and non-profit endeavours, adding, "From her contributions to the growth of Edo Heritage Foundation of Michigan in the United States of America, to the doggedness shown in advancing the cause of St. Maria Goretti Old Girls International, she has been a force to reckon with in the advancement of Edo ideals and heritage.
As Chief Executive Officer (CEO) of Trustcare Group Homes Inc., a non-profit company that renders residential care services to mentally ill residents in Michigan, she has made an indelible impact in the lives of many and continues to be a shining light of our state.
He stated, "I am confident that she will bring her experience and network to bear in advancing the objectives and interest of ENAW, even as we are certain that she will deepen the impact of the association globally and in our dear state".
"On behalf of the government and people of Edo State, I extend heartfelt congratulations, and wish Mrs. Oviasu a successful tenure as President."