Ohanaeze Ndigbo Nullifies Ex-Communication Tag Imposed On Chief John Uche By Dubious Members Of The Cabal
Posted on August 10, 2022
CYRIACUS IZUEKWE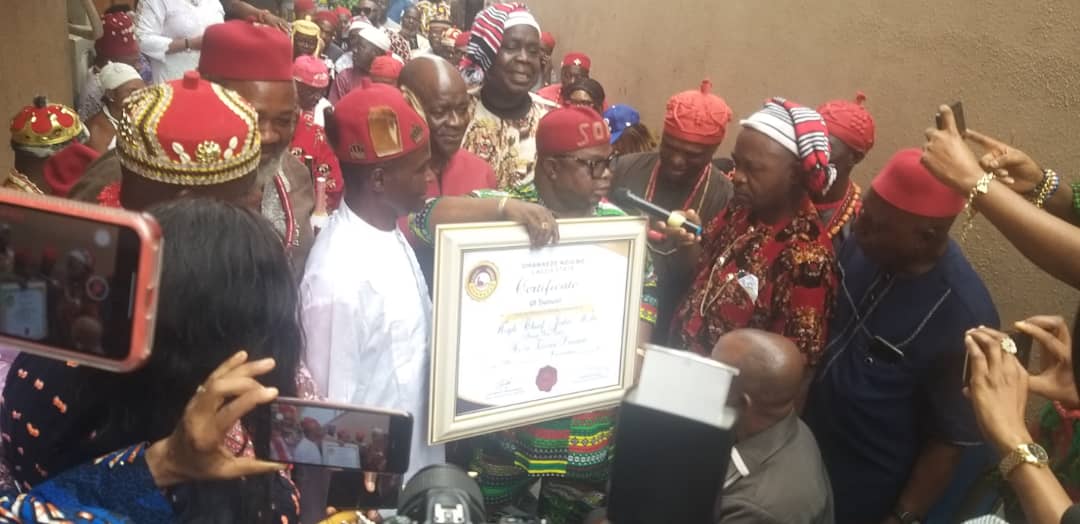 It was an emotional atmosphere on Tuesday 9th August, 2022, at the Ohaneze Ndigbo Secretariat in Surulere area of Lagos State, where the amiable President, Chief Solomon Aguene, demonstrated leadership maturity by nullifying the ex-communication status wrongly imposed on the pioneer President the group, Chief John Uche, by dubious members of the cabal in the State.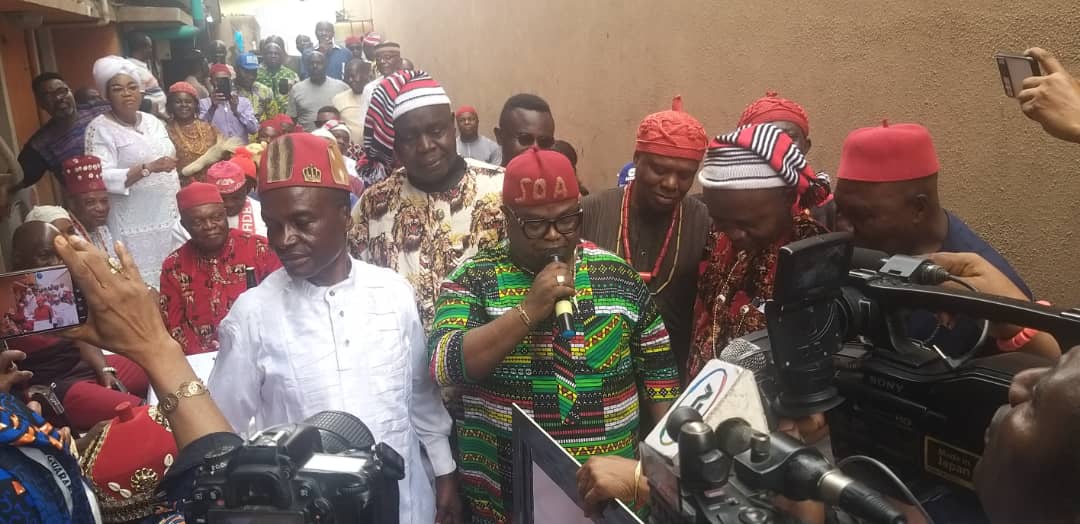 P.M.EXPRESS reports that the now disbanded members of cabal under the name of Ohanaeze Elders Forum, led by Chief Oliver Akubueze, had announced that Ohanaeze Ndigbo Lagos State had excommunicated Chief John Uche and asked Ndigbo not to have any dealings with him for some years.
However, Chief Aguene, having gone through the allegations leveled against him and found out that they were false, he apologized on behalf of Ohanaeze Ndigbo Lagos State and subsequently nullified it. Aguene as well went ahead to honour him with an outstanding leadership award as the founder of Ohanaeze Ndigbo Lagos State.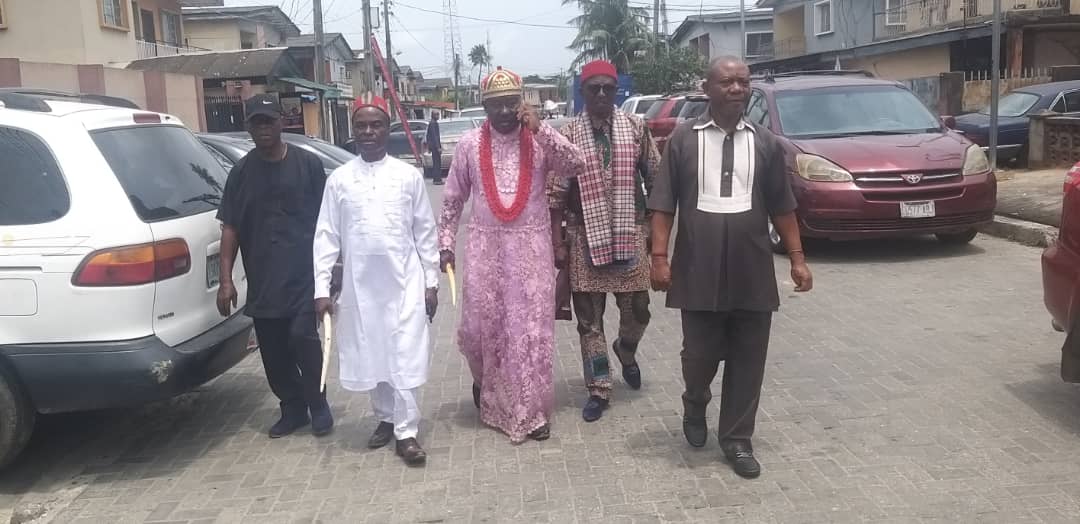 In an address presented by Chief Aguene to Ohanaeze Ndigbo on the purported ex-communication of Chief Uche, in the presence of Igbo sons and daughters including the members Supreme Council of Ezendigbo in Lagos State led by  Eze Lawrence Nnamdi Eze and his deputy, Eze Vincent Iwobi and others, it stated the following: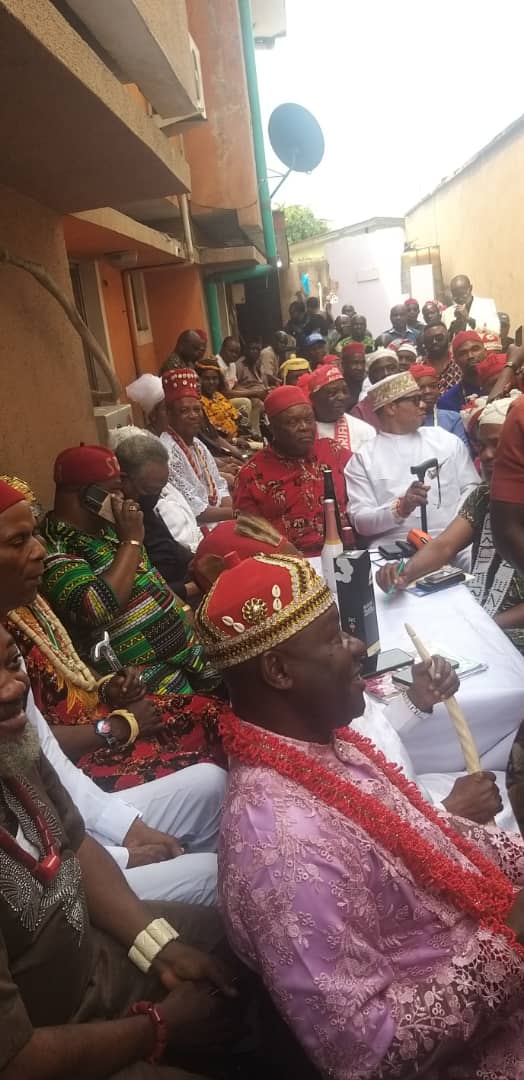 "With Profound respect to Ndigbo and Nigerians in general, let me apologize to my Predecessor, my mentor, and my brother, High Chief John Uche, founder and first elected President of Ohanaeze Ndigbo Lagos State".
"High Chief John Uche spearheaded my election campaign from 2017 – 2018 and led me to victory. He introduced me to IMEOBI, Ohanaeze Ndigbo highest policy making body in Igboland and also to various Igbo leaders that I know today."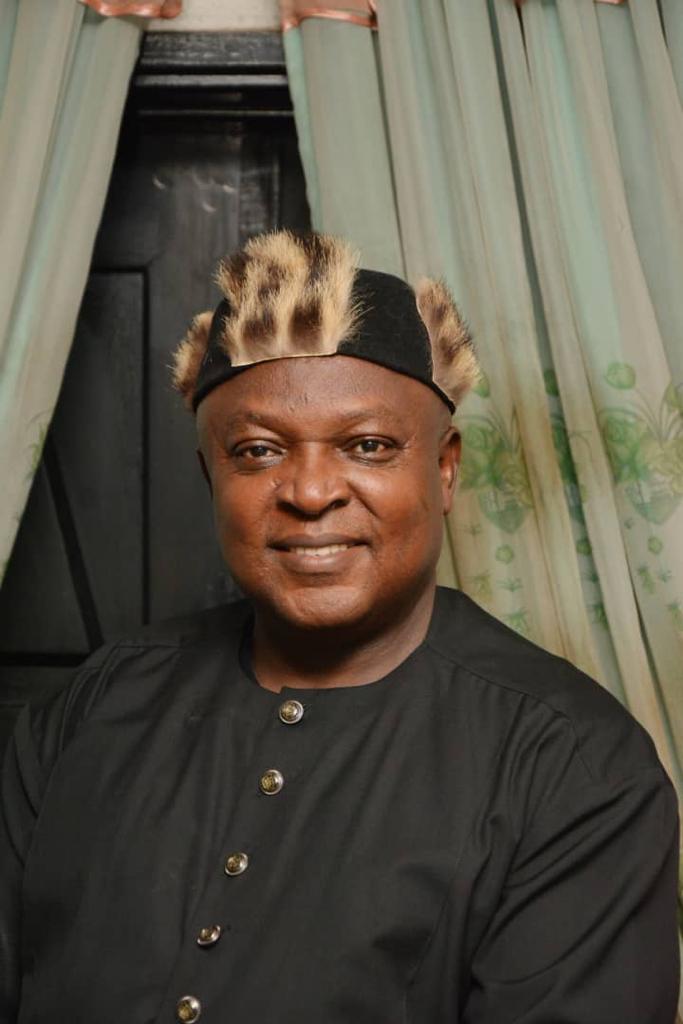 "Unfortunately, after my swearing in on 16th June, 2018, the phantom crises set in, which was a creation of the so called Ikeja Mafia and members of cabal headed by Chief Uche Dimgba (Alias Eze Okpotemba) and Chief Oliver Akubueze."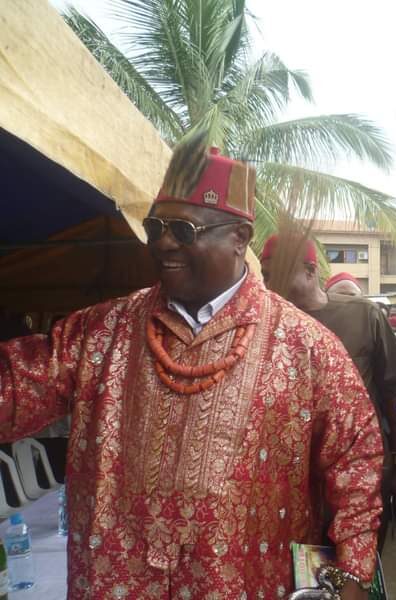 "They saw Chief Uche as brilliant, highly educated, experienced and knowledgeable in all spheres of endeavour, hence they saw him as a big clog against their ambition in Ohanaeze Ndigbo Lagos State Chapter. They saw Chief Uche more sophisticated to handle and more over, he does not believe in cutting corners  hence the trumped up charges that were leveled against him to scheme him out in order to enable them hijack the scheme  of things in Ohanaeze Ndigbo Lagos State."
"The cheap political intrigues that characterized the  excommunication of Chief John Uche was the beginning of my error as the President of Ohanaeze Ndigbo Lagos State."
The Ohanaeze Elders Council was hurriedly formed to fight  Chief John Uche even when everybody knew that it was his right as the founder and first elected President of Ohanaeze Ndigbo  Lagos State to head the Chairmanship of Ohanaeze Elders Council in Lagos State."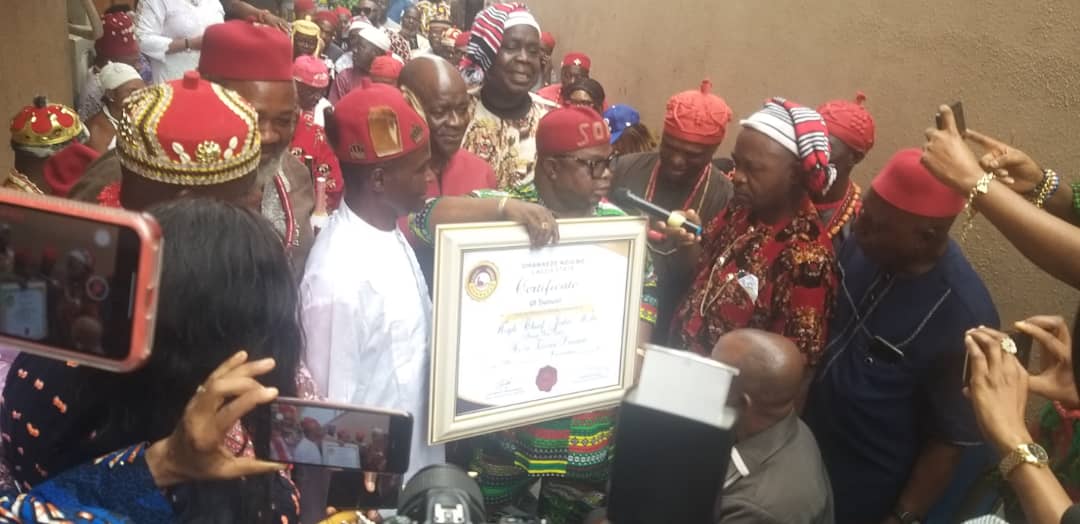 "I, Chief Solomon  Ogbonna Aguene, The President Ohanaeze Ndigbo Lagos State, hereby declared today 9th August, 2022, as one of the happiest days in my life for the available opportunity I have to clear my troubled conscience of evil machination, which I was lured into by chronic fraudsters, who have no visible means of existence rather than fraud and deceit."
"I cannot stop thanking the Almighty God for the grace and the opportunity I have to disconnect myself from unrepentant fraudsters, whose anything in their lives are fraud and forgery. A case in point is that I set up an Electoral Committee and appointed Chief Oliver Akubueze as Chairman, who craftily opened an account for an adhoc committee and racked over N40m in Lagos State under the false pretence of electoral fee, up till today, no account has been rendered to any quarters."
"I also use this opportunity to address a lot of propaganda and misinformation being carried out against Chief John Uche, which had been disturbing my conscience. Therefore, I am here to clarify some issues and ask the public to dispel the ignorance being exhibited in the real heart of the matter in Ohanaeze Ndigbo Lagos State."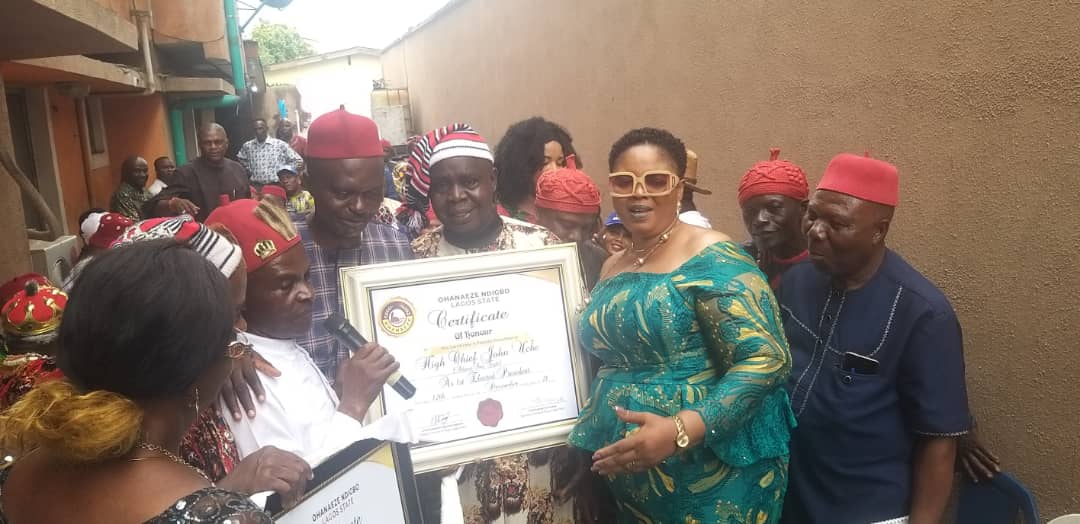 "Today we shall put things straight in Ohanaeze Lagos State to enable reasoning confront reality."
"After going through the listed excommunication charges against Chief John Uche, Ohanaeze and generality of Ndigbo found him innocent and clean of the stated charges. He was not informed or invited by the musketeers, typified by Chief Uche Dimgba and Chief Oliver Akubueze, to state his own side of the story on the matter before pronouncement of excommunication, which is a taboo in Igbo Land. Therefore, the charges and the excommunication are hereby declared null and void and of no effect whatsoever" the President, Ohanaeze Ndigbo Lagos State pronounced.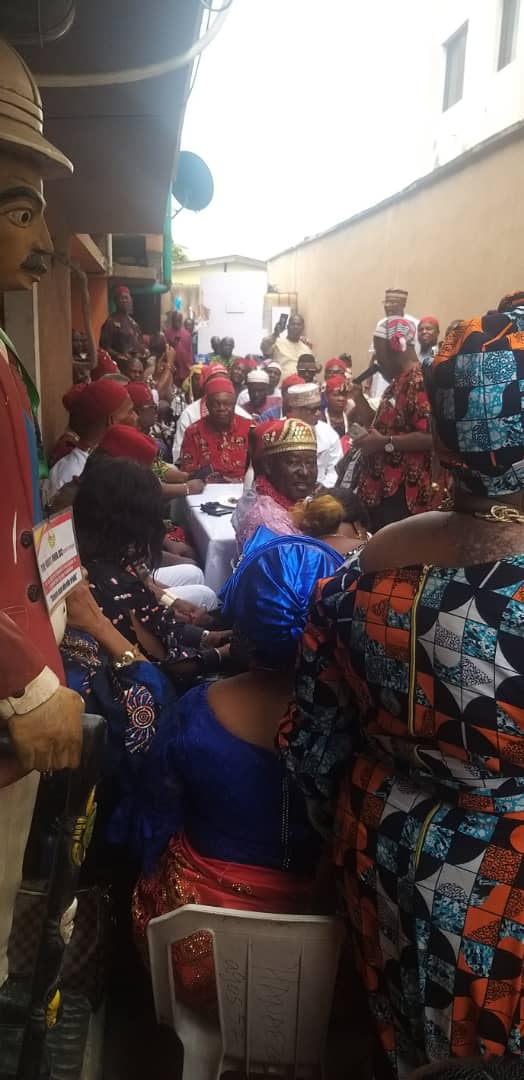 Chief Aguene also thanked those who intervened to ensure that there was reconciliation especially the Chairman of Supreme Council of traditional rulers, Eze Lawrence Nnamdi Eze,  Ezendigbo in Mushin, Eze John Nwosu, Eze Sylvester Oriaku, Ezendigbo Coker/Aguda and those who have contributed in one way or the other to ensure that peace returned to Ohanaeze Ndigbo Lagos State.
In response, Chief Uche commended Chief Aguene for his courage to open up and apologize over what happened and he was convinced that he was lured into it by members of the cabal.
He gave a summary of how Ohanaeze Ndigbo Lagos State started and presented some documents to prove that he was the founder and the first President that created branches of Ohanaeze Ndigbo in the Local Government areas in Lagos State.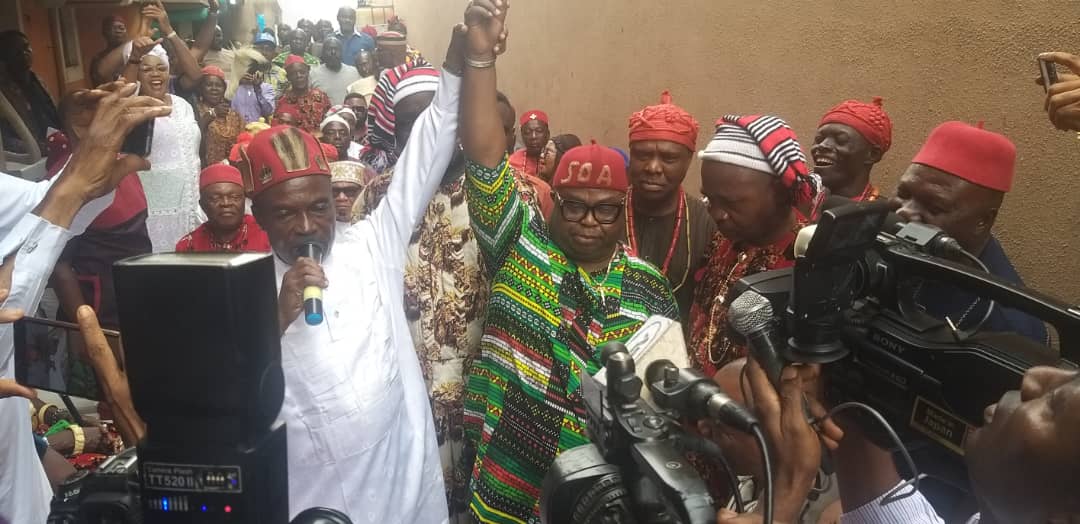 In view of the development, Chief Uche stated that he has forgiven those who offended him in the spirit of reconciliation and raised Chief Solomon Ogbonna Aguene's hand as the authentic President of Ohanaeze Ndigbo Lagos State.
He also promised to work to restore Ohanaeze Ndigbo as it used to be when it started and promised to promote, reconciliation, peace and unity in Ohanaeze Ndigbo Lagos State.
There were tears of joy as women sang various songs to praise Chief Aguene and Chief Uche for having the courage to reconcile for the interest of Ndigbo in Lagos State.