Soludo Visits Aguata LG Burnt Secretariat Buildings, Reassures Ndi Anambra Will Not Succumb To Acts Of Lawlessness 
Posted on April 9, 2022
CHRISTIAN ABURIME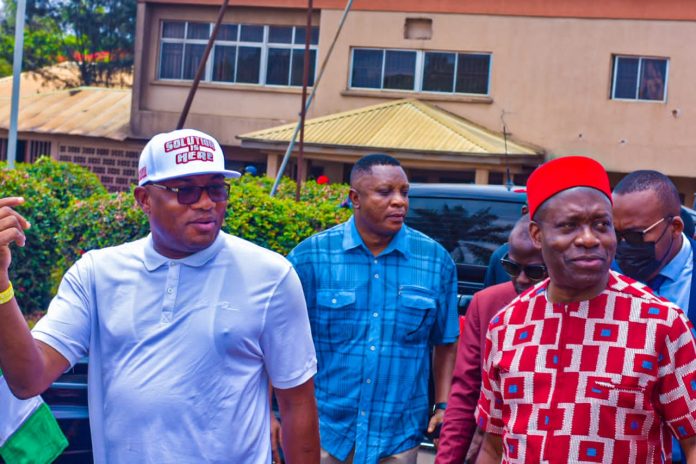 Anambra State Governor, Prof Chukwuma Charles Soludo, early morning on Friday, April 8, 2022, visited the Aguata Local Government Secretariat, where some buildings within the premises were torched by unknown arsonists.
Prof Chukwuma Soludo, who was conducted round the building by a senior principal officer of the Local Government, decried the act of lawlessness being perpetrated by these unknown arsonists.
After undertaking an inspection of the buildings set blaze by arsonists, which also include the administrative building, Governor Soludo reassured that the people of Anambra State will not succumb to acts of lawlessness. He stressed that peace and security must reign in Anambra State.
He again appealed to those committing these heinous crimes to accept the olive branch offered by the State government by coming out of the bushes and surrounder their guns, so that they will be rehabilitated to join in playing critical roles in the development of Anambra, South East and Nigerian at large.
He added that those who refused to take that option and decide to continue with their criminal activities, will be treated as criminals.
Governor Soludo also revealed that from statistics from investigations from those arrested previously shows that 85% of those committing these crimes come from one state in the Southeast while another 15% come from another State in the same Southeast geo-political zone.
He said these criminals are not from Anambra State because Ndi Anambra do not engage in violence crimes and killings. He further reassured that peace and stability will return to Anambra State stressing that the people's power must triumph.
"We must restore peace and stability in Anambra State so that we can create a livable and prosperous homeland for our children, grand-children and great grand-children yet unborn."
Governor Soludo was accompanied on the inspection by the State Commissioner of Police, CP Echeng Echeng; Special Adviser on Security, AVM Ben Chiobi;: Commander Artillery Regiment, Onitsha, Col MB Abubaker and other top Security Chiefs