UNAICDF Chapter Holds Chapter Meeting, Empowers Aged Widow, Orphanage Home 
Posted on August 11, 2022
SAMUEL ODUNGIDE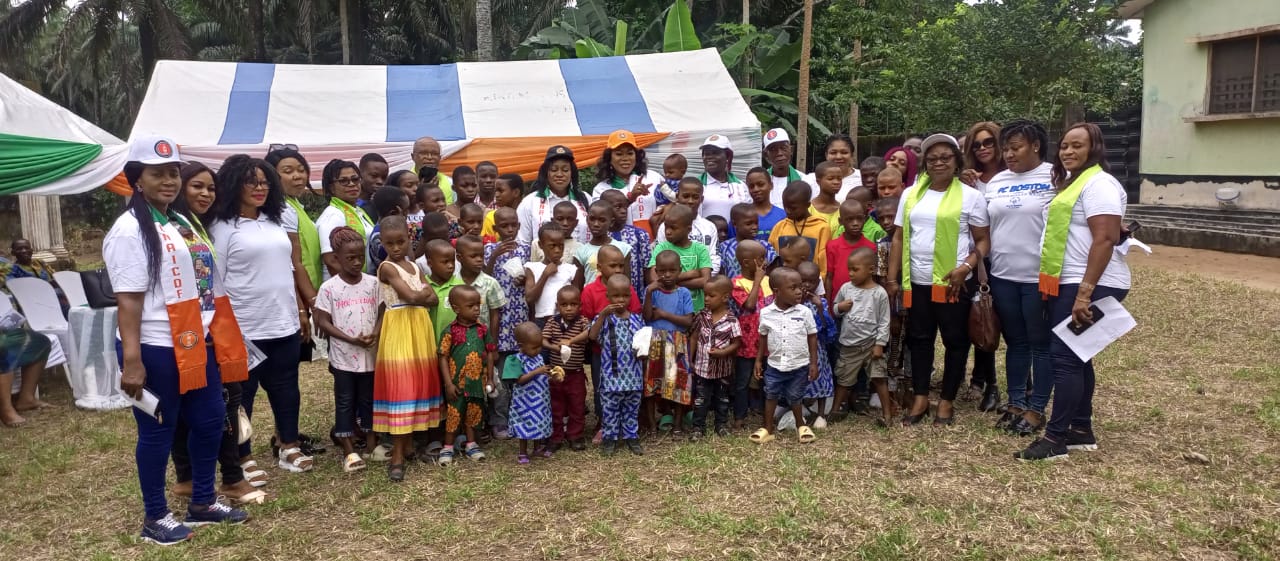 A notable and fast growing NGO in Akwa Ibom State, Utuenikan Ndito Akwa Ibom Community Development Foundation, Akwa Ibom State Chapter, recently held its general meeting which was held at Inels Ltd., in the state capital, Uyo.
The gathering of the Utuenikangs marked a historical event in the history of the Foundation as its 2023 Convention Banner was unveiled by Utuenikan Dr. Sunday Paulinus Akpan during his visit to Nigeria from London, UK.
Dr. Akpan, who is an International Adviser to the NGO, disclosed that the Foundation's Convention coming up in December, 2023, would be a humongous event in the country.
In the State Coordinator's speech, Utuenikan Ekemini Uche thanked members for their support and unflinching loyalty to the foundation.
She hinted that the foundation is poised to render real-time  empowerment and establish a support system for the indigenes of Akwa Ibom State and its indigenes all over the world.
She disclosed that though the foundation is apolitical, the foundation seeks the workings of a responsible government to work in tandem with the foundation's ideals.
The NGO with its President, Akparawa Ime Uko Ufford JP, based in Italy was set up to carter for members and less privileged in the society through grants, soft loans, scholarships and promoting social values and morals.
Whitin its 10 months of existence, the foundation has built a 2-Bedroom apartment for an aged widow at Ekiditam and visited Mfon Abasi Orphanage in Abak LGA with over 40 writing desks for its pupils and bags of clothing, various food stuff, toiletries  and other critical items.
Also, the NGO Int'l Adviser, Utuenikan Dr. Sunday Akpan, redeemed his pledge of a laptop computer made to the AKS Chapter, which is the headquarters few months ago and presented two smart phone, Samsung A12 to the media Director, Samuel Odungide and the International PRO, David Gibson Ibanga, gifted the duo by another Adviser in diaspora,  Utuenikan Engr Anthony Norbert based in UK.
The President's representative admonished members to be cordial in their daily activities as worthy ambassadors of Utuenikan Ndito Akwa Ibom Community Development Foundation and be law abiding citizens of Nigeria.
The spokesperson of the new Excos pledged their total and unalloyed support to the foundation.
During the general meeting, which was attended by the President's representative, Vice President 1, Dr. Ifure Ufford Azorbo, and foreign based adviser, Utuenikan Dr. Sunday Paulinus Akpan,  Utuenikan Eno Sunday, International Secretary, Coordinator Utuenikan Ekemini Uche, AKS Coordinator, , Utuenikan Rose, Assistant coordinator from cross River Chapter and a host of other prominent members in the state, new executive members were inducted to strengthen the Chapter as highlight of the meeting.
However, the international President,  Utuenikan Akparawa Uko Ime Ufford JP and another International Adviser,  Engr. Anthony Norbert Young wetness the occasion Italy and UK respectively on virtual television.