Lagos Police Arrest 2 Notorious Kidnappers
Posted on January 13, 2018
LUCKY  LAWAL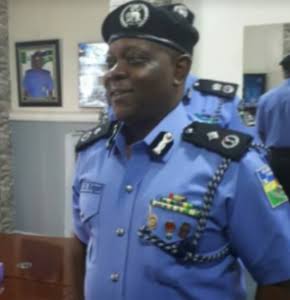 Luck ran out on two notorious kidnappers, 28-year old Igwe and 21- year old Chukwuemeka Bright on 10th of January, 2018 at about 9:43pm at Elemoro, Ajah Lagos State while trying to escape with their victim.
The kidnappers were intercepted by men of the Nigeria Police, Lagos Command.
According to the Police Public Relations Officer, Chike Oti, the Command is pleased to announce the arrest of two notorious kidnappers.
He said that the criminals met their waterloo yesterday at Elemoro while escaping with their victim, one Mrs Mildred Mbajiorgu.
The tight security network emplaced in Lagos State by the Commissioner of Police, CP. Edgal Imohimi, did the magic as the Divisional Police Officer, Elemoro tapped into it to get the suspects arrested he said.
According to the DPO, SP Mohammed Shehu Limawa, he received a distress call from a lady who told him that she heard the voice of a woman crying for help in a dark blue Gulf 3 car. She also gave the registration number of the car as KRD 845 EC.
The DPO quickly alerted one of the Anti crime patrol teams along the route taken by the kidnappers and instructed the policemen to slow down traffic to about 20km per hour. The hoodlums ran into the gridlock and were arrested by the policemen who were waiting for them.
The victim was rescued and taken to the hospital to treat the injury inflicted on her forehead by the daredevils using the butt of a locally made pistol. Meanwhile
the two suspects together with the locally made pistol recovered from them have been handed over to the operatives of the Special Anti Robbery Squad (SARS) for further investigation.
The Commissioner of Police wishes to use this opportunity to warn criminals and would be criminals that Lagos is too hot for them. He further stated that  they should learn from the fate of those who tried his resolve to rid Lagos of criminals.
Categorised as : Crime, crime, Uncategorized
No Comments »