Nigerian Girl, Sope Aluko Sizzles In Hollywood Blockbuster's Black Panther
Posted on February 12, 2018
FUNSHO AROGUNDADE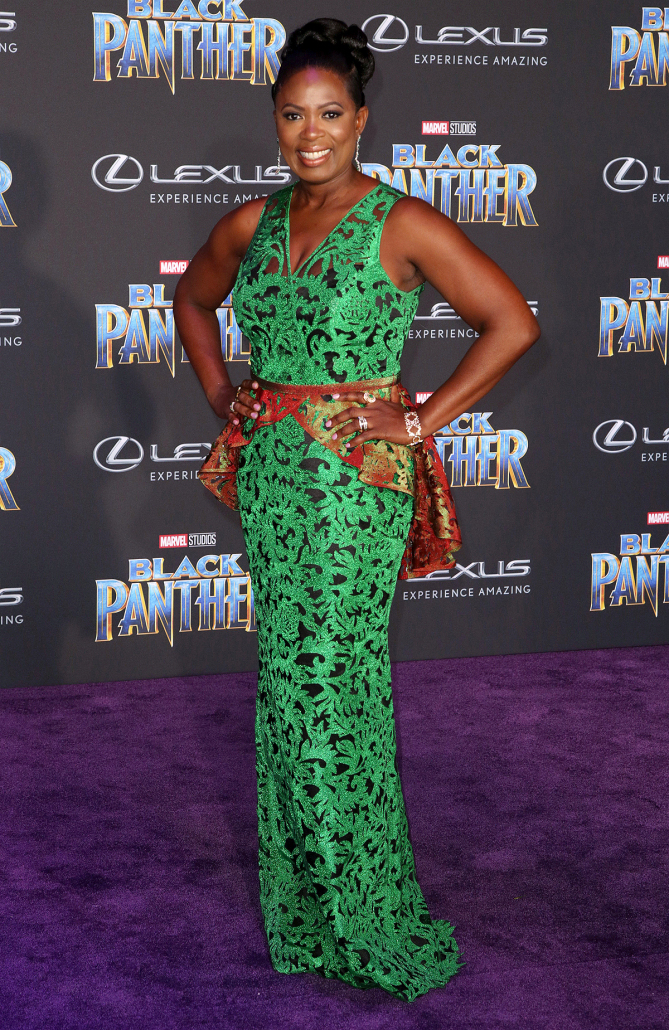 To many movie freaks, Nigerian-born Hollywood actress Sope Aluko is no stranger to their screens as they probably must have seen here before in Parks and Recreation, Bloodline, Identity Thief, Pitch Perfect 2 and 13 Hours. 
But to most of her compatriots at home, they will finally get to see her in Marvel Studios' one of 2018's most anticipated movies, Black Panther.
Sope, being a dedicated fan of the Marvel comics, landing a role in Black Panther was really a dream come true for Sope.
Couple of weeks ago, the internet played a cruel joke on all Nigerians after Nollywood sensation Funke Akindele was mentioned on the list of the cast of upcoming Avengers 3: Infinity Wars, and a few days later having her name replaced with Genevieve Nnaji's.
However, there hasn't been any formal statement on who among the screen divas will be starring on the flick. But Nigerians are super excited to see another of their compatriot, Sope taking up a major role as part of the cast of the movie.
In Black Panther, which boasts of a 90 per cent black cast and is expected to be released in Nigeria on February 16, Sope is playing the character Shaman, which she has described as "a critical role".
Black Panther follows T'Challa's return home after the death of his father in Captain America: Civil War as king of Wakanda but finds his sovereignty challenged by a long-time adversary in a conflict that has global consequences.
The film is already on the brink of being a blockbuster, as it already broke box office records within the first 24 hours of it's pre-sale.
Beating Captain America: Civil War's record in 2016, Fandango reports results from a user survey, stating Black Panther was 2018's second most-anticipated movie after Avengers: Infinity War.
Black Panther also stars Chadwick Boseman, Michael B. Jordan; Academy Award® winner, Lupita Nyong'o; with Academy Award® nominee, Angela Bassett; and Academy Award® winner, Forest Whitaker.
Speaking on what it was like working with great guys like Forest Whitaker, Michael B. Jordan and Lupita Nyong'o, Sope held little back.
"It felt very familiar and like home. We had early call times but I didn't even feel the long set hours because it was such a good time," she said. "I didn't feel like I was amongst stars, everyone was so down to earth and normal."
For Sope, a Christian, playing the role of Shaman, a powerful primal leader who calls upon nature spirits for aid or guidance in Black Panther, means nothing.
According to her, "During breaks we shared our testimony of how we got to where [we] did and most of the people were testifying to God's miracles, it was almost like church."
But how did Sope land herself the role in the film? The married mother of two teenage boys disclosed: "A local casting team requested me for a major role but I didn't get it. I auditioned four times and I had to be humble and try for a much smaller role because I wanted to be a part of the project. They kept interviewing me for different roles, so I was very happy to see that I was highly sought after. The casting directors made me feel very warm after a 5 minute ice breaker about my name. They honored the Nigerian way of saying it which made me even more comfortable auditioning."
On her experience as a Nigerian actor in Hollywood, Sope said: "Hollywood had the version of Africa they wanted to present and package to the world and it looks like they've since changed then"
"Directors are now more open to casting real africans with real accents from different parts of the continent, so that's very reassuring. Notable names like Yvonne Orji, Lupita Nyongo and David Oyelowo have made it easier for those coming behind to break in. It's cool to be Nigerian these days so it's a great time for actors in Hollywood because it feels like it's all finally happening."
A very patriotic Nigerian girl, at the premiere of Black Panther in the United States, Sope and her stylist Hema Persad commissioned a dress from top Nigerian designer Deola Sagoe made of material inspired by traditional Aso Oke fabric, and finished the look with a Tyler Ellis clutch, Stuart Weitzman shoes and jewelry by Neil Lane, H. Stern, Roseark and Effy Jewelry.
Born in Nigeria but primarily raised in the United Kingdom, Sope's early years were spent living in different countries all over the world due to her father's role in diplomatic service.
She shuffled through places like France, Tanzania, Trinidad & Tobago, and Indonesia, which exposed her to many different cultures and afforded her the opportunity to learn several languages.
She started out with an undergraduate degree in Engineering and a master's degree in Marketing.
While in the UK, Sope attended drama classes at the London Academy of Music and Dramatic Arts (LAMDA) and extended her study into dance.
After a very successful career in the corporate space, the multi-linguist (speaks 4 languages including Yoruba) returned to acting and performing.
Since then, she has played recurring roles on Netflix's "Bloodline", NBC's "Law & Order SVU" and guest appearances on USA Network's "Burn Notice" "Lifetime's "Army Wives" amongst others.
Her film credits include supporting roles in feature films like Identity Thief, Pitch Perfect 2, 96 Minutes, Grass Stains,
Sope is currently filming another Marvel film, set to release in late 2018 and looks forward to working in Nollywood.​
"I want to be a part of a Nollywood directed, produced, written and distributed film that is shot in Hollywood. I'm putting it out into the universe," she said.