TELL OKEZIE IKPEAZU THAT LEADERSHIP IS A RESPONSIBILITY
Posted on February 12, 2018
EMMANUEL UGWUMBA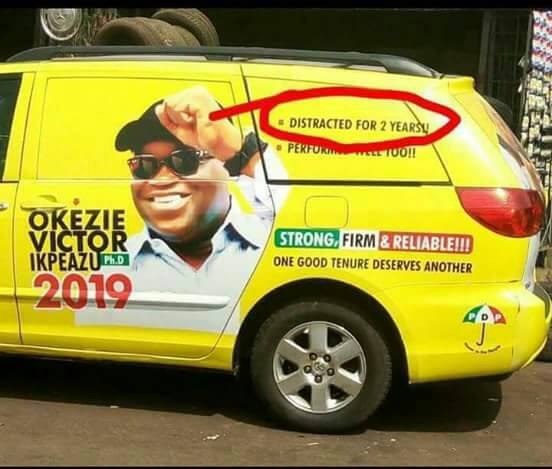 If you notice recently, many educated Abians and people of goodwill, started asking questions about the state of BACKWARDNESS and Okezie Ikpeazu's lack of performance. They are simply asking Okezie Ikpeazu to tell Ndi Abia how much that has come into the coffers of the state from; Internally Generated Revenues, Federal Government Bailout Funds, Paris Club Refund, Federal Monthly Allocations, Ecological Fund, Local Government Allocations, International Findings, Security Vote and others? How much has he spent and on what?
Rather than come with answers his chippering vuvuzelas are busy pointing fingers at former governors of the state.
Abia people have not asked them not to expose any of the former governors of the state who had case to answer in the dwindling fortunes of Abia. After all Okezie Ikpeazu is the governor and every record regarding the activities of past governors are with him. Rather than him simply pointing fingers he should know that the ball is in his court. He should tell Abians those who stole and how much.
Okezie Ikpeazu should stop his excuses and take responsibility. If he cannot expose those he claimed to be the reason behind his inability to perform, it then means he is not ready for the job of governing Abia.
If Ikpeazu is ready, let him name and shame those whom he claimed were the reason for his unproductive governance. Let him open the books. He should be able to be accountable and transparent if he wants the people to trust him.
The idea of his rented vuvuzelas coming on social media to rant about past governors rather than give Abians records of his ACHIEVEMENTS commensurate with the billions that had come into Abia is irresponsible.
What manner of a leader that wants to be taken serious will resort to pointing fingers at others when the job he was elected to do is to provide solution? How can someone who came to power knowing the challenges on ground before he took over wake up after 3 years of receiving billions on behalf of the state and then begin to look for excuses for doing nothing? How can he continue to give excuses when he is asking for another mandate of four years?
Na excuses Abia people go chop?
You can't account for what belong to the people. You have nothing on ground to reflect the billions you have received on behalf of the state. You are going around looking for who to blame even when you are the man in charge. Rather than take responsibility you are bemoaning. Yet, you want the people to allow you another four years to waste and continue this shame on Abians.
My friend leadership is a responsibility. But for you it is about excuses and unaccountability.
Whiles other governors in Lagos, Ebonyi, Kaduna and Anambra are making waves you are squandering and giving excuses. And you want that to continue.
Honestly, another four years will make Abia situation worse.
With the excuses coming from Ikpeazu and his chippering vuvuzelas it is obvious that they do not have plan to develop Abia state.
They want the people to continue to discuss their excuses whiles they continue the looting of Abia State. They cannot give account of their stewardship but they want another tenure. They are only pointing fingers on others when they are the ones in charge.
And they think Abian should continue in that stupidity? God forbid!