WGB Enlivens 20th Agege Elephant Cup
Posted on January 10, 2018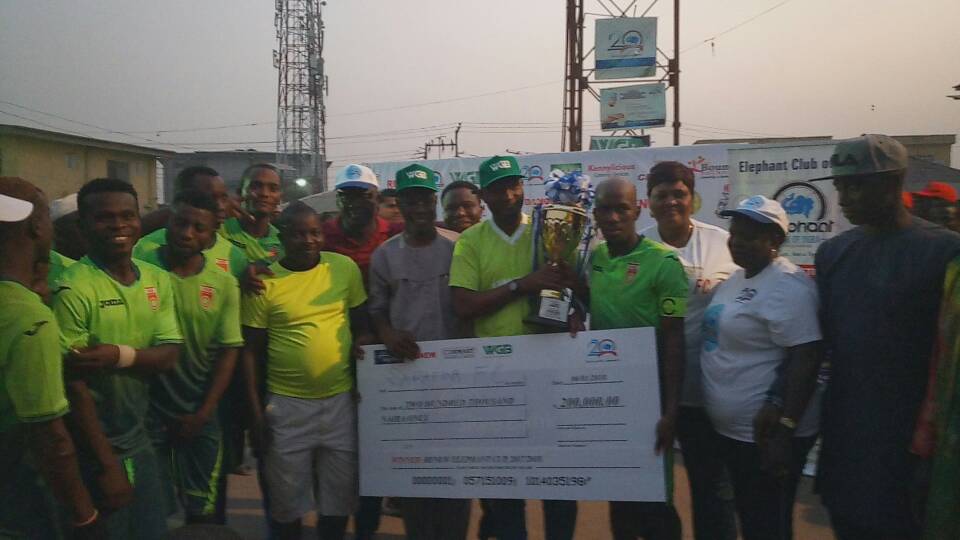 Winners Golden Bet, WGB, o
ne of Nigeria's fledgling sport-betting companies, is not relenting on its massive support to the development of grassroots football in Lagos, Nigeria.
This was manifested on Friday, January 5 at the sprawling Palace of Ologba of Ogbaland, Oba Ashade, in Ogba, Agege, when Sarafina FC defeated Unique FC of Agege by 3 goals to 1 to reclaim the title as champion of the company's sponsored grassroots tournament, Renew-WGB Elephant Cup.
The defending champion went two goals ahead within the first 15 minutes before Unique FC substituted player pulled one back in the first half of the game.
In the second half, Unique FC continues the pressure to level the game but Sarafina FC later scored one more to seal the victory.
Addressing journalists at the venue, the Assistant General Manager (Marketing), Winners Golden Bet (WGB), Mrs Popoola Patricia, said the company priority is grassroots sports.
"At WGB, we are actually supporting grassroots sports and we are also grooming future champions. With time you will find out that Nigeria will be having champions through this type of programs," she noted.
According to her "We love this environment because they bet on our platform and this is the best way we can give back to them and as you can see, they are very happy".
Popoola explained further that WGB has been sponsoring Lagos FA Cup since they came on board till date.
The 20th edition of the football tournament witnessed by mammoth crowd with live performances from various artistes and comedians.