Yahaya Bello To Melaye: I'll Respond When Human Being Talks
Posted on June 2, 2017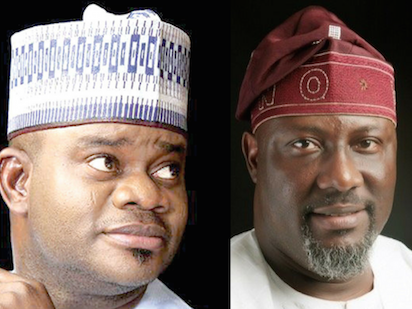 Kogi state governor, Yahaya Bello has said that he has no time to waste responding to the threat of impeachment by Senator Dino Melaye, representing Kogi West at the national assembly, and some members of the All Progressives Congress (APC) in the state.
Speaking with some journalists after Friday's Jumat Prayers at the State House, Abuja, Gov. Bello said the threat by the APC faction in the state was not worth losing sleep over.
"I will respond when a human being is speaking," the governor responded when asked about Melaye's threat that state legislators would be mobilised to impeach him.
"I don't think I have to waste my time responding to distractions. Honestly speaking, I'm too focused to be distracted.
"Kogi state suffered for over 25 years before I came on board and the good people of Kogi are really appreciative of the efforts we are putting forward to make sure that the state is well developed.
"Go to Kogi state website to see what we have done in the 15 months that we have been in the office. So, any side distraction is not something I should pay attention to, because the people are with me."
Gov. Bello has been accused by the Independent National Electoral Commission (INEC) of engaging in double voter's registration, but he denied it, saying he was out of the country when the story broke and he could not have registered from Dubai, UAE.
He said it was perhaps his ghost that registered for the second time in the ongoing INEC continuous voter registration exercise.
"I travelled on 19th (of May) to Dubai for a brief break and I saw the press release and I was taken aback that I did double registration on 23rd," he said.
"Probably it is my ghost that did double registration. I think INEC has earned itself a very high reputation and I think and I am very confident that the leadership of INEC will not allow some elements to drag the name of the commission into the mud.
"Surely, that's a falsehood. I did not do double registration."