Armed Robbery Suspect Disguised As Masquerade Arrested During Operation
Posted on February 4, 2020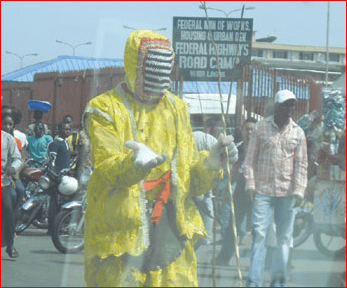 CYRIACUS IZUEKWE

The Police Intelligence and Detectives, Lagos Command, led by the  Commissioner of Police, CP Hakeem Odumosu, have made another remarkable and shocking achievement by arresting a 28-year old man who disguises as masquerade for robbery operations in the State.
P.M.EXPRESS reports that the suspect, China Blessing, was apprehended by Police operatives from Olosan Division led by the DPO, CSP Ayodele Arogbo, during routine monitoring in Mushin area of Lagos.
It was gathered that the suspect, Blessing, wore the mask along Vono area of Mushin and pretended to be a masquerade while attempting to rob innocent people. The suspect was said to have done so severally and robbed people of their valuables until the Police got the information, trailed and caught him in the act.
Blessing was unlucky because the Police surveillance detected his act and immediately arrested the masquerade. When the mask was removed, it was discovered that it was China Blessing that was inside it. The Police also recovered some substance suspected to be Indian hemp as exhibit.
After interrogation, he was charged before the Ogba Magistrates Court for the alleged offence and he pleaded guilty.
He told the Court that the mask removed from him was what he used to cover his face and pretended to be a masquerade in order to rob innocent people. He admitted that it was not the first time he did so but was unfortunate when the Police arrested him when they did.
The prosecutor, Inspector Kofi Akadu, asked the Court to give a date to present the facts to enable the Police to prove that he committed the offence.
The Presiding Magistrate, Mrs. T.O. Tanimola, directed that the defendant should be remanded in prison custody without an option of bail and adjourned till when the prosecutor will present the facts and he will be sentenced accordingly.