Boy, 16, In Trouble For Inserting Finger Inside Private Part Of Girl, 6 
Posted on August 10, 2022
MICHAEL AKINOLA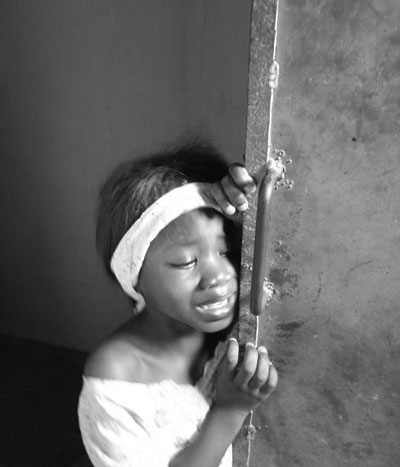 A 16-year old boy has been arrested by the Police in Lagos State for allegedly checking the private part of a 6-year old girl by inserting his finger into it claiming that he wanted see how it looked like. 
P.M.EXPRESS reports that the incident happened at Modupe Street, Thomas Estate, Ajah area of Lagos, where they reside.
According to Police sources, the suspect trailed the little girl who was sent on an errand by her mother and cornered her. He then pushed her to a wall and forcefully inserted his finger inside her private part in order to satisfy his sexual desire.
However, he landed in trouble after the girl got home and informed her parents that the suspect tempered with her private part while she went on the errand.
This angered her parents who went to the Police in the area and reported the alleged assault on the girl. The suspect was arrested and later transferred to SCID, Yaba, for interrogation over the conduct.
During interrogation, he confessed that he only wanted to see how her private part looked like but did not penetrate her. The Police found him culpable and subsequently charged him before the Ebute Metta Magistrates Court for the alleged offence.
The Court did not take his plea when he was arraigned following a motion moved by the prosecutor, Supol Paul, asking the Court to refer the matter to the DPP for advice since both the defendant and victim are minors.
The Presiding Magistrate, Mrs. O.M. Ajayi, ordered his remand in the Correctional Centre and directed the prosecutor to duplicate the file and send it to DPP for advice.
The matter was adjourned pending the outcome of the DPP's report, which will determine if the matter will be transferred to the High Court or not over jurisdiction.
The names of the defendant and the victim were withheld because they are minors in line with the policy of P.M.EXPRESS in protecting the minors while reporting such incident.