CSP Olabisi Okuwobi: Making The Difference In Policing
Posted on March 9, 2019
CYRIACUS IZUEKWE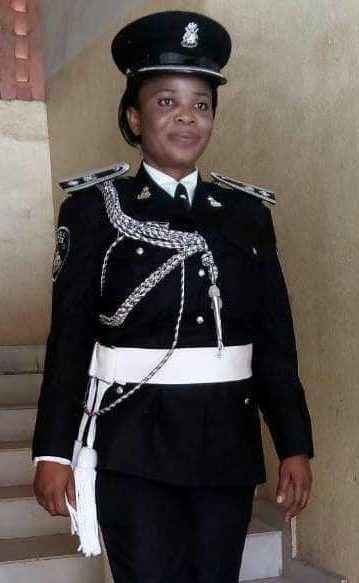 It was Sidney Sheldon who said, "My heroes are those who risk their lives every day to protect our world and make it a better place – police, firefighters and members of our armed forces". It is particularly important to note that policing is very demanding, as their work demands that they be permanently on call. At the same time the Police Force has had a bad name over the years because of a few rogue officers who have given new meaning to the saying; one rotten egg spoils the entire pudding. By their selfish acts, they have dented the image of the police and as fate would have it, the bad elements in the Force are easily noticed.

But it would be dishonest to deny the existence of a good number of police officers who execute their duties with diligence and dedication bearing in mind Robert Peel's saying that the police are the public and the public are the police; the police being only the members of the public who are paid to give full time attention to duties which are incumbent on every citizen in the interests of community welfare and existence.
Accordingly, P.M.EXPRESS deems it fit to highlight hard-working officers like CSP Olabisi Okuwobi. Hard work, as often said, pays. Hopefully, this piece will help to goad other officers who often treat their work shabbily to work hard and honestly for the good of society.
For CSP Okuwobi policing means being in a position of trust to serve humanity and one must always strive to deliver and do the best. That is what she has been doing since she took over as the Divisional Police Officer, DPO, Ejigbo Division, Lagos State. When she took over as the officer in charge of the volatile Ejigbo axis of Lagos State known for various crimes such as armed robbery, cultism, drug dealing and criminal activities, not many believed in her ability to check crime in the area. But today, the residents can now sleep with their two eyes closed and the whole environment has remained peaceful with minimal crime rate in the area thanks to the efforts of CSP Okuwobi and her team.
Many have wondered how she was able to achieve the feat which had seemed impossible for other DPOs who had worked in the Division before her. P.M.EXPRESS finding revealed that CSP Okuwobi believes strongly in the police and the public partnership known as community policing in combating crimes. This she had applied intelligently and it has worked effectively resulting in sanity being restored to Ejigbo.
Apart from the community policing strategy, CSP Okuwobi has been said to possess great communication skills, intelligence and creative ability to organize and coordinate available human resources to deliver even in challenging tasks. The Nigerian Police may have discovered the gifts early in her career and had effectively been utilizing them having appointed her as Police Public Relations Officer in various states like Benue, Delta, Edo; even the United Nations made her its Public Relations Officer in a foreign mission abroad.
CSP Okuwobi has been described as a woman achiever that had made impact wherever she was posted. In the past, some areas in Ejigbo were known for crimes and violence owing to the activities of cult members who kept the residents restless and in perpetual fear both day and night. But when CSP Okuwobi resumed, she sounded a strong note of warning to criminal elements in the area to relocate or be arrested. Many of them thought she was joking and was just making the usual announcement heralding the assumption of duty by any new officer. Not until she apprehended one of their notorious leaders popularly known as 'No case' and charged him to court and he landed in prison, other criminal elements who dared were equally arrested and sent to prison. It was then other criminal elements realised that Ejigbo had become a no go area and relocated elsewhere.
CSP Okuwobi has been described as an outstanding officer who humbly performs her duty with a detribalized mindset; will work effectively with any officer not minding the tribe, beliefs and gender.
She studied English and graduated with a Bachelor of Arts degree from University of Ibadan before she joined the Nigerian Police as Cadet ASP in 2002. She also has a Master's degree in Peace and Conflict Studies and presently pursuing a doctorate degree not minding the demands of work.
Before her present assignment at Ejigbo Division, she had worked as Deputy Police Public Relations Officer, Delta State Command (2004), Head Of Police, Delta State NYSC Camp (2004), Delta State Police Public Relations Officer (2004-2007), Benue State Police Public Relations Officer (2007), Oyo State Police Public Relations Officer (2007-2010), United Nations Police Communication Officer, Unmil (2010), United Nations Police Public Information Officer (2010-2012), Divisional Crime Officer, Challenge Division, Oyo State (2012), Oyo State Police  Public Relations Officer (2012-2015), Business Development And Research Officer / Public Relations Officer /Officer In Charge Of Computer Section, Nig. Police Cooperative Multi-Purpose  Society Ltd (2016 -2017), and as
Divisional Crime Officer, Ejigbo Division, Lagos State (2017-2018).
CSP Olabisi Okuwobi is a member of professional bodies like the International Association of Chiefs of Police (IACP), National Association of Women Law Enforcement Executive (NAWLEE),
and National Association Of Black Law Executives (NABLE), International Association Of Women Police   (IAWP), Nigeria Institute Of Public Relations (NIPR), among others.
Her efforts in helping to positively change the image of the Force had not gone unnoticed as she has been honoured with awards by different organisations like United Nations Commendation Award, Award Of Excellent Performance, Rotary Club, Oyo State Chapter, Award Of Outstanding Performance, Red Cross Society, Oyo State, and Best Police Public Relations Officer Award (South West), NUJ Oyo State Chapter.
The Ogun State born CSP Olabisi is married and her ideology remains 'do unto others what you want to be done to you'.