Delta Speaker Mourns Ibru
Posted on September 6, 2016
Delta Speaker Mourns Ibru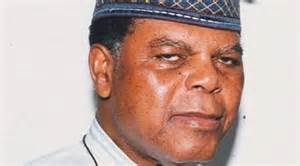 The Speaker, Delta State House of Assembly, Rt. Hon Monday Igbuya Tuesday paid tribute to late Olorogun Michael Onajirevbe Ibru, describing him as a modest and strong businessman.
In a statement issued in Lagos by his chief press secretary, Mr. Henry Ebireri, Igbuya consoled family and friends of the late Ibru, saying they should be glad because he had lived a worthy and fulfilled life.
He also urged members of his family to stand strong and united as they mourn Olorogun Ibru.
"Olorogun Micheal Ibru was a shrewd businessman with a good heart" he said.
 Igbuya lauded Ibru's great concern for the unity of Urhobo.
"Olorogun Michael Ibru as an international businessman, philanthropist, educator, a lover of children, grassroots organizer and community leader gained the respect, trust and love of the entire country and he will be greatly missed," the statement said.
Igbuya prayed Almighty God to grant the soul of the late businessman eternal rest and grant members of the family the strength to bear the loss.
According to Wikipedia, Ibru was born in 1930 to the family of Peter Ibru, a missionary worker, who also worked at the Igbobi Orthopaedic Hospital, Lagos. After secondary school, he joined the United African Company, as a management trainee. In 1956, a few years after joining U.A.C, he dropped out of the company and started a partnership, which he called Laibru. The corporate entity was in partnership with an expatriate, Jimmy Large. After engaging in general trading with some success, in 1957, Michael Ibru discovered that the frozen fish market was a fertile market with the potential to deliver returns above the market rate. However, it was a tough market to penetrate, at the time, many expatriate firms and Nigerian traders were lacking and some were not interested in the market. But he felt he could put extra effort communicating with general traders, who played key roles in products acceptance.
To trade in seafood, he established an importing company, he also rented and built cold storage facilities across the country. By the mid-1960s trading fish had become the traditional money maker for the Ibru organization.
Though he had other profitable interests such as transportation and construction, fish trading helped him secure financing and other forms of capital to engage in large scale trading. He established a partnership with a Taiwanese company, Osadjere Fishing Company, which provided Trawlers and other accessories for trading.
By the end of the 1960s he branched out fully into other areas of the economy. Like a lot of his contemporaries, he established a transportation company, called Rutam. He also invested in palm oil production.
Over the years, the Ibru Organization has expanded into other areas such as Tourism, Brewery, Timber and Poultry.
He is known as an entrepreneurial figure who created one of the largest modern Nigerian owned groups with other figures such as the low key Bode Akindele.
Michael Ibru attended Igbobi College, and acquired a school certificate in 1951.
Chief Ibru had five wives and seventeen children, the most prominent being Olorogun Oskar Ibru (who heads Ibafon Ports) and Oboden Ibru.  He also tried his hands in politics, in 1983, he was a gubernatorial candidate but lost to Samuel Ogbemudia.