Gumel Declares NOC/Olympic Solidarity Sports Medicine Seminar Open
Posted on November 22, 2022
President of the Nigeria Olympic Committee (NOC), Engineer Habu Ahmed Gumel declared open the NOC/Olympic Solidarity Sports Medicine Seminar ongoing at the Media Centre, National Stadium Complex, Surulere, Lagos.
Gumel, who was ably represented by NOC Public Relation Officer, Phemmy Adetula enjoin participants to take cognizance of topical issues which will be extensively addressed by guest speakers as it affects the growth and health of our athletes and development of our sport.
Adetula said the theme, "Promote and Protect The Integrity of Sports and Health of Athletes", sports medicine is something athletes, coaches and administrators should be aware of because it has become a big challenge and a recurring decimal in our sporting events and as we approach the National Sports Festival in Delta State in the next couple of days, I urge all the participants to listen attentively to our eminent speakers and learn valuable lessons from their wealth of experience which will propel our sports in the right path.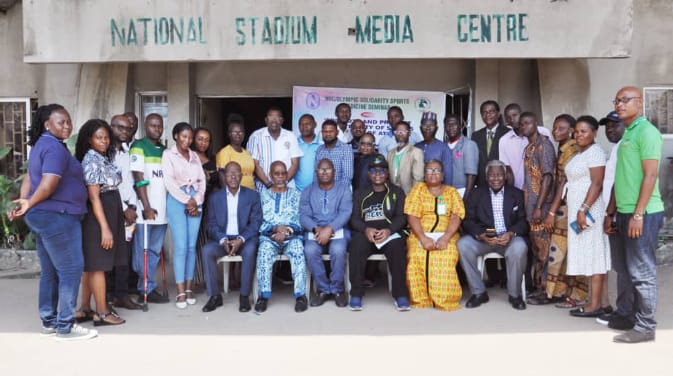 NOC Chairman, Medical and Scientific Commission, Dr Festus Oshoba in his speech welcome all participants both online and physical to the seminar and harped on the need for information and knowledge about sports medicine to be propagated among athletes and major stakeholders. He thereafter introduced the speakers such as Dr Akin Amao, Prof Ken Anugweje, Dr Akin George, Dr Sam Ogbondeminu. Others are Dr Bukola Bojuwoye, Olumide Oyedeji, Dr Paul Onyeudo, Dr Bakare Ummukulthoum, Prof Ade-Akingboye amongst others.
Highlighting the need to create more awareness during the seminar, Dr Akin Amao emphasized on the need for concerted effort to train coaches and technical personnel in order to impact the right principle on athletes.
"Some athletes don't have the information and education about drugs as it pertains to their health, so we need to improve on that aspect so that as they train, they are told about certain things that should not be taken when they compete. These substances are not just performance enhancing drugs, they are also detrimental to their health" Amao concluded.
The 3 day seminar which commenced on Tuesday 22nd will run till Thursday 24th November 2022.