Hon. Kasunmu Celebrates Senator Oluremi, Yeye Asiwaju On Her 62nd Birthday
Posted on September 21, 2022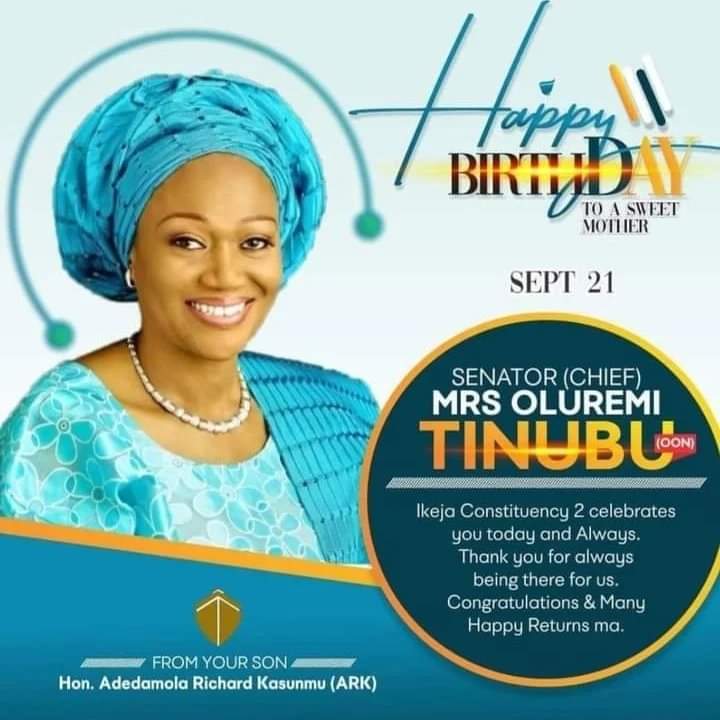 The lawmaker representing Ikeja Constituency 2 at the Lagos State House of Assembly, Hon Adedamola Richard Kasunmu, (ARK), has celebrated the wife of the Presidential candidate of the All Progressives Congress, Senator Oluremi Tinubu, on the occasion of her 62nd birthday celebration. 
In his birthday message to the Distinguished Senator, Hon Kasunmu said, "Many years ago, when American poet and legal scholar, Oliver Wendell Holmes said "Youth fades; love drops; Leaves of friendship fall but a mother's secret love outlives them all," he most certainly had in mind alluring mothers like you, our ever-captivating matriarch, Senator (Chief Mrs.) Oluremi Tinubu, the Yeye Asiwaju of Nigeria".
"This is because, your innate love and inherent compassion shine through all you do, both as a pillar of support for Daddy Asiwaju and all of us in the family, and as a leader and ranking legislator of the Federal Republic of Nigeria."
"I want to seize the opportunity of your birthday today to salute your courage, audacity, vision, perseverance and sterling performances both on the home front and public spaces."
 "I want to also specially appreciate your personal affection, support and soothing words of encouragement for me over the years. Your good impact has been enormous in my journey. Thank you for always being there!"
"It is my prayers that the Lord God Almighty, the Maker of Heaven and Earth will grant your heart's desires, shower you with greater successes and grant you total victory in the journey ahead as 2023 approaches."
"By this time next year, when we shall be celebrating your birthday, we shall be serenading you as the First Lady of the Federal Republic of Nigeria by Divine Grace."
Congratulations on this beautiful day Ma! Many Happy Returns!" your Loving Son,
Hon. Adedamola Richard Kasunmu (ARK).