Hon Segun Odunmbaku Holds 2nd Breakfast Meeting To Mark One Year In Office
Posted on September 23, 2022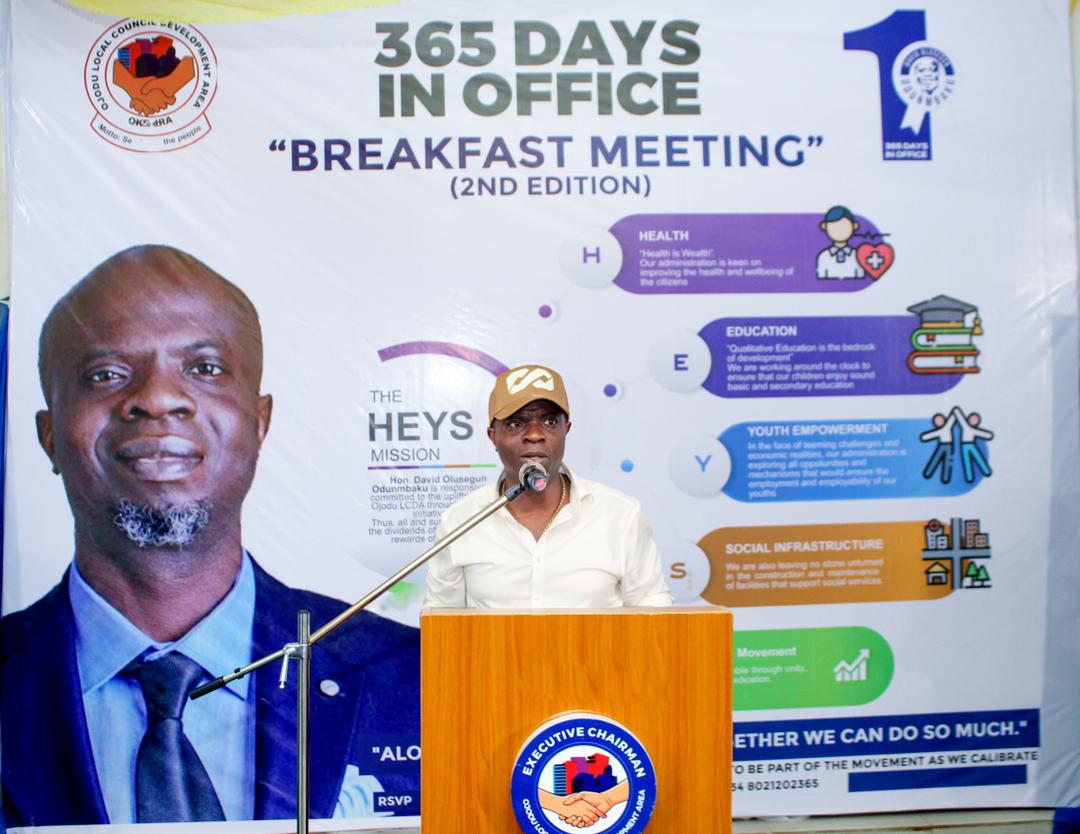 The Executive Chairman of Ojodu LCDA, Lagos State, Hon. Segun Odunmbaku, has hosted a high level breakfast meeting with the business leaders and development partners at part of an eventful three days celebration to mark his 'One Year In Office'. 
Odunmbaku used the special occasion to thank the organized private sector, civil society organisations and non governmental organizations over the partnership with the Council on the "Ojodu Dream" – a developed community.
The Chairman, while speaking to the dignitaries said, "As our administration marks One year in Office, we choose to celebrate the vision that one day, Ojodu would be home again. The Ojodu vision does not belong to one man, Therefore it's not a personal dream, it's everyone's dream".
He further said, "Our goal is to create a fully equipped and functional medical institution in each of the six wards in Ojodu, incubation centres where we deliver courses and training with globally relevant skills, establishment of E-Libaray, renovations through (Adopt a School), procurement of school buses, scholarships and bursary for indigent students with residents cards to digitalize resident records".
"The achievements recorded by the administration through its partnership and collaborations with private sector and development organisations are free medical screening and treatment in partnership with BOF, partnership with Awolola Ayodeji Foundation for teachers incentivisation to reward higher, injection of millions of naira into the informal sector through partnership with Elfot and Ecobank for financial inclusion to empower small businesses."
Hon. Odunmbaku, who later solicited for supports for sectorial needs in Health, Education, Youth development and Social Infrastructure areas, appreciated the corporate partners for thier Corporate Social Responsibilities while the CDC Chairman, Elder Benjamin Abiona commended the Chairman and his administration for prompt and timely interventions in community development especially primary health and education.
The Chairman later commissioned a renovated Primary Health Center and presented a brand new Ambulance at Apata, Oke Ira in Ojodu LCDA. The Chairman, while commissioning the facility and vehicle said the vision is to have functional Health Centres at all six wards.
He said that his administration is partnering with LASUTH for Geriatric Care at the newly renovated Apata Primary Health Center, planning the
recruitment for more Health personnel at Apata and Ogba primary health centre and procurement of more ambulances.
Categorised as : News
No Comments »