Imolites Advised By APC To Be Mindful Of The Mischievous Antics Of The Opposition, PDP
Posted on September 9, 2021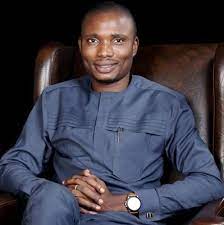 The All Progressives Congress, APC, Imo State chapter, has warned the main opposition political party in the state, the Peoples Democratic Party (PDP), to desist from using the name of the Indigenous People of Biafra (IPOB) as a political instrument to achieve its inordinate political objective in the state.
This warning became expedient following IPOB's stern refutal of a purported sit-at-home order by its leadership, allegedly issued against the one day working visit of President Muhammadu Buhari to Imo State.
In a widely circulated disclaimer, Mazi Chika Edoziem of the Directorate of State of the separatist group, while disassociating his group from the said order, described it as handiwork of saboteurs and enemies of the people.
"As a party, we became alarmed at the excitement and enthusiasm with which the mischievous and misleading sit-at-home order was circulated on various online media platforms by agents and sympathizers of the opposition PDP."
"We are no longer in doubt of the extent Imo PDP could go, to undermine the peace, security and development of our state, Imo. It is however unfortunate, that desperation has overwhelmed the opposition PDP."
"While the All Progressives Congress will continue to advocate for healthy democratic culture, the party frowns at the politics of falsehood, destruction and blackmail which regrettably has become the trademark of Imo PDP."

"We appeal to the good people of Imo State to be vigilant at all times and be weary of PDP and its media hirelings, whose penchant for fabrication of falsehood to create panic and incite the people against government in the state has assumed a notorious dimension. Our people must continue to avoid PDP and its acrimonious brand of politics of 'if not me, no one'."
"To this end, we appeal to ndi Imo to discountenance the fake sit–at-home order issued by PDP under the guise of IPOB. This shows that PDP in Imo nay Nigeria lacks the popularity and credibility to influence the action of the masses."
"We encourage our people to go about their lawful businesses, as we file out today in our usual hospitable disposition to welcome the President and Commander-in-Chief of the armed forces of the Federal Republic of Nigeria, Muhammadu Buhari, GCFR, on his one day working visit to Imo State" Cajetan Duke, Director-General, APC Media Centre, Imo State concluded.