Lagos East: ADP Questions Why Its Candidate Is No Longer Campaigning
Posted on November 30, 2020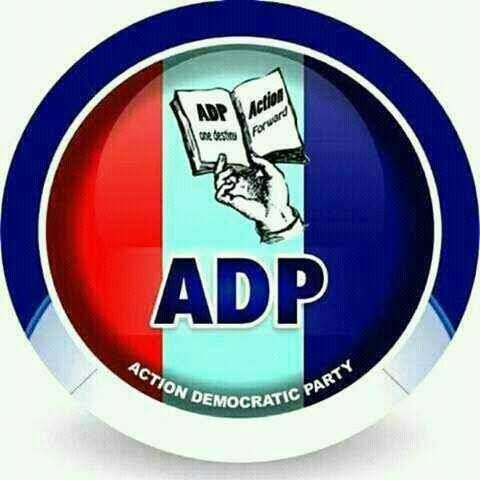 The Action Democratic Party (ADP), Lagos State chapter, is calling the attention of the general public to a very important development towards the Lagos East Senatorial election coming up on 5th December, 2020.
The party said as a youth friendly party, which believes in the political emancipation and promotion of youth inclusiveness in leadership and governance, it decided to field a younger candidate than those of the ruling APC and PDP. This, the party did by bringing down considerably, the cost of nominations to near nothing, to encourage the youth participation, but its candidate, Adebowale Jeff Johnson, has not shown that he is ready for the election with his sudden aloofness from the race.
Reacting to the development, Nasir Adewale Bolaji, ADP Chairman, Lagos State, said,
"Unfortunately, the youths who are now actively "Soro Sokeing", have some amongst them not living up to expectations or showing that youths have the capacity and tenacity without being compromised along their quest for political power".
"As a party, we are still investigating the root cause of this sudden silence and halt to his campaign, even though some fifth columnists are already peddling rumor that our candidate Adebowale Jeff Johnson, may have been settled by a certain candidate in the contest, to step back from the race. ADP as a responsible party, whose inclination is always geared towards a just society, development, true federalism and accountability, we deemed it fit to bring the attention of the stakeholders, majorly the general public to this development, while investigation is ongoing."
"Efforts have been made to reach out to the candidate using all media, but he cannot be traced. Putting this is proper perspectives, is to ensure that whatever the unpleasant outcome of this election, that is certainly not the plan or worth of our party ADP."
"At the Last gubernatorial election in Lagos, the party did its best but the Candidate at that time decided to lord himself over the party leadership in Lagos. Till date, said candidate is yet to make good his commitment and promises to members of our party and polling agents at the election. This matter we shall address at the appropriate time. We cannot therefore fold our arms and keep mute while such impudence from some of our candidates repeats itself."
"Our overall goal for fielding candidates is not to fill the gap but to win elections and provide responsible leadership to Lagosians" the ADP leader concluded.