Man Arrested For Attempt To Set Ministry Of Justice Building On Fire
Posted on February 28, 2021
MICHAEL AKINOLA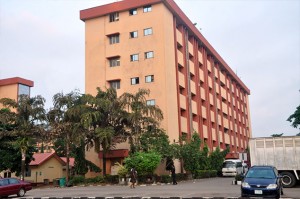 Disaster was averted at the Ministry of Justice at Alausa Secretariat in Ikeja area of Lagos, after a man believed to have criminal motive to destroy documents, went to the building with petrol to set the place ablaze.
P.M.EXPRESS reports that the incident happened on 18th February, 2021, when the workers were going home after the day's work and he sneaked into the place with keg of petrol and matches.
The suspect, Agbo Peter, was caught and then handed over to the Police at Alausa Division for interrogation over his conduct.
It was gathered that the 38-year old Peter went to the Secretariat building with keg of petrol, poured it on the ground and was about to set the building on fire before he was appended by the security guard within the complex.
During interrogation, he reportedly admitted that he actually poured petrol on the ground but had not set the building ablaze before he was caught.
He was said to have refused to disclose why he did so or who sent him to do so, where important judicial documents are kept for safety.
After thorough interrogation, the Police found him culpable and charged him before the Ogba Magistrates Court for attempted arson.
He pleaded not guilty.
The prosecutor, Supol Benson Emerhi, asked the Court to give a date for hearing on the matter to enable the Police to prove that he actually committed the alleged offence.
The Presiding Magistrate, Mrs. J.A. Adegun, granted him bail but ordered him remanded in Correctional Centre pending when he will perfect his bail conditions.