Pastor Rapes Sex Worker, Butchers Her For Failed Money Ritual
Posted on May 2, 2020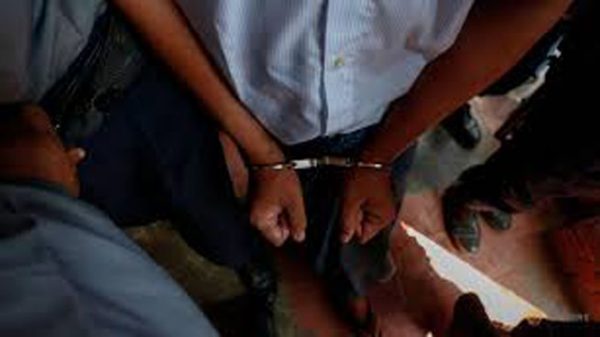 CYRIACUS IZUEKWE
Facts have emerged on how a Pastor of Christ Apostolic Church, CAC, Oke Iyanu, engaged a 27-year old sex worker, raped her and butchered her for failed money rituals.
P.M.EXPRESS reports that the incident happened at Akanle area of Osun State, where Pastor Iyanu lives and presides over the church.
Police operatives from the Osun State Command have arrested Pastor Iyanu and he is facing charge for murder over the killing of the victim, Miss Elizabeth Okoni. He allegedly used her body parts for rituals which were buried besides his holy mountain altar.He has confessed to have been engaged in money rituals while preaching salvation messages to his Church members.
The father of six children revealed this to newsmen while being paraded along with his accomplices at the Force Headquarters in Osogbo.
Pastor Iyanu blamed his actions on the devil and his quest to solve poverty that had bedteviled his family.
The pastor's secret was revealed when the Osun State Government restricted movements to stop the spread of Covid-19 pandemic in the State, which forced everyone to stay at home to see what the pastor had been doing secretly.
He disclosed that he had participated in the exhuming of two bodies from the burial grounds, which he used to prepare concoctions for money to no avail stressing that the failure of the concoction made him look for a fresh human being, which he thought would be efficacious.
He added that he learnt the trade from one Alfa at Ibadan before he relocated home saying that he expected to reap over N4.5 million only from Miss Elizabeth Okoni.
"We first of all, took turns to rape her and after that we killed her. We also took turns to sleep with the dead body. We cut the head, the fingers, and toes. We grinded the fingers and the toes which we mixed with other concoctions we licked every morning expecting an inflow of money."
The Police spokesman confirmed the incident and promised to do proper investigation on the case to reveal the faces of all those that were involved in the crime in order to punish them accordingly.
Pastor Iyanu will be charged for murder which attracts life imprisonment if he is tried and found guilty before the Court for the alleged offence.