Soludo's Tax Solution As Anambra's Key To Progress
Posted on July 28, 2022
JUVENTUS CHUKWUNWEIKE OKOLI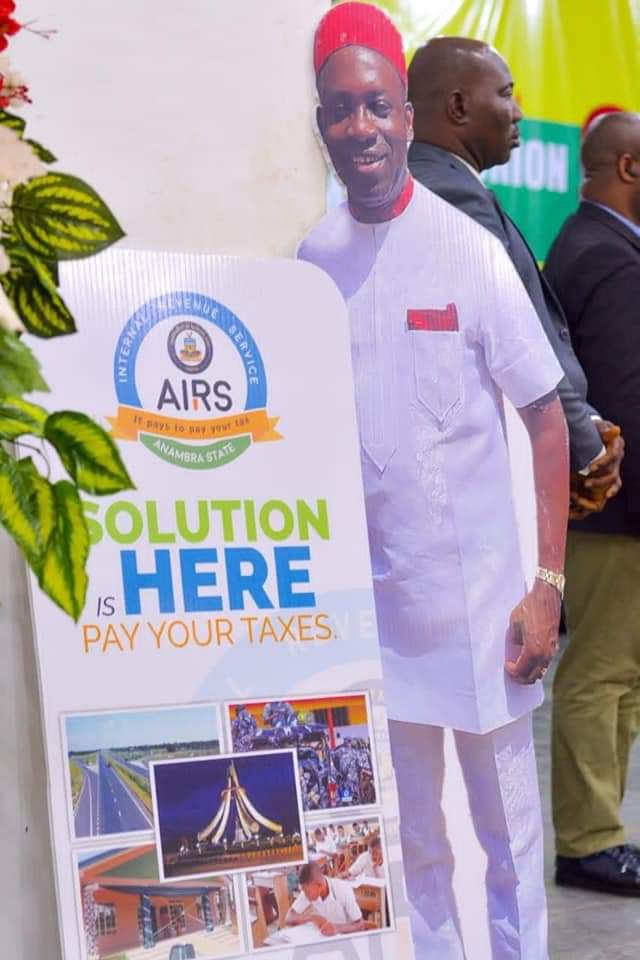 The importance of taxation cannot be overemphasized. And, the most important purpose of taxation is to raise resources for governments to deliver essential public services. Therefore, Governments use them to build or pay for many of the things that are fundamental for the good functioning of the countries, namely, health care, schools, roads, other government projects and social services. That's the social contract, between the governments and their citizens. Most economists observe that "It is important to look at both sides of the equation – not only taxes collected, but also how the money is spent to improve lives and well-being of the citizenry."
Anambra State's new tax directions made news headlines within the past few days, following innovative tax policies initiated by the four-month-old administration of Gov. Chukwuma Charles Soludo, CFR.
The tax reforms in revolutionary manner made tax payment and collection easier, more accountable to the people and lesser challenging to the people. It also makes citizens pay lesser in a novel 'win, win' that favours the populace and the government.
The governor, a renowned professor of Economics and man of global repute and former Governor of the Central Bank, CBN who took the mantle in Anambra State on the 17th of March, 2022 brings his experience and reputation to bear on the reforms. As one whose stewardship at the apex bank was marked by many 'firsts', administratively and economically, he shows his grasp of development and economy issues in the new directions in taxation in Anambra.
An informed peak into the reforms will enable better understanding and lampoon the reasons for the protests which suddenly came almost simultaneously from two opposing groups on the matter under discussion. Good consideration of the larger picture of what Anambra really needs and the Soludo government's determination to pursue its administrative dreams will buttress the grounds for the new policies.
The tax reforms for instance entail a complete overhaul of the tax payment method in the state where individuals who oftentimes are not even state actors gained the system. They were hired to collect and also enforce the payment of internally generated revenue from businesses, persons and others. Under the falsehood that they were "remitting the collected sum" to government purse they lined their pockets and defrauded citizens. The collectors or their agents either diverted part of the sum to some private accounts as well as other areas of their own interests or never credited the tax payers appropriately. Tax payers did not even know what they were expected to pay and which government agency they were to pay to duly.
In a bid to cut off the practice that enthroned dubious proxies and multiple taxation that were existed before Soludo's era, the new government took a bold step in the new order. First, the government published exact figures of taxes meant for bodies and groups such as transporters in the state. For instance, a breakdown of what the commuters will be paying as taxes henceforth are contained in an official release made by the Anambra State Internal Revenue Services (AIRS). In a release signed by Mrs Silvia Tochukwu-Ngige of the Head, Taxpayer Education and Enlightenment Team of AIRS, operators in the sector are expected to pay significantly lesser than what they used to pay. They are also saved from the brutality and bloody extortion of roadside, motor park thugs (Ndi Agbero) as well as the violence and accidents they are exposed to by the pre-existing situation. In a development that represents radical reduction in the amounts the operators pay, it is calculated that the commercial motorcyclist, Okada, rider will now pay N300.00 daily which amounts to N7,500.00 per month and N21,000.00 quarterly, representing discount of N1,500.00 for the period. At the new rate of N40,500.00 for half a year there is a discount of N4,500.00.
Similarly, everyday the commercial tricycle (keke) rider would be paying N600.00 which amounts to N15,000.00 monthly or N42,000.00 quarterly (discount of N3,000.00) or N81,000.00 for half a year (N9,000 discount).
For commercial pick up vans and shuttle buses the rate is reduced to N1,000.00 daily, N25,000.00 monthly or N70,000.00 quarterly (discount of N5,000.00 for a quarter). For a half year operators in that cadre would pay N135,000.00 (discount of N15,000.00).
Taxi drivers' daily payment is only N700.00 or N17,500.00 for a month. For a quarter, it is N49,000.00 (discount of N3,500.00). In half year, it is N94,500.00 (discount of N11,000.00).
Township buses are on daily pay of N1,200.00; N30,000.00 or N84,000.00 quarterly (discount of N6,000.00). Yearly, their rate is N162,000.00 (discount of N18,000.00).
This is part of what the new tax policy entails in the sector. Furthermore the new direction requires that all revenue payments for the state must be done directly by the individual taxpayer through electronic or digital banking, known today as e-banking to the state coffers, thus no cash payment is to be made to anybody! This is not a strange development because paying directly or through e-payment is norm in Nigeria, as that is how most Nigerians pay their electricity bills.
From the foregoing, it becomes absolutely clear that the new policy does not demand too much neither is it very tasking nor inconsiderate. Only the cynic or ill-advised would fail to note that it has a real human face. It wouldn't be an overstatement to say that it keeps the tax payers on a considerable comfort zone on one hand and hugely secures or keeps completely intact, that which is due for Ndi Anambra. Announcing this the Chairman/Chief Executive Officer of AIRS, Mr. Richard Nwora Madiebo declared that "levies and taxes to be collected by the government must be done digitally and an electronic receipt which could be verified, issued." He added that, "during the enforcement, it would be done using the electronic sticker."
So, one wonders why there were agitations against the tax reform recently. Where were these coming from?
While some media influencers and opinion moulders have maintained that the first protest was stage-managed, the coming of a counter protest almost immediately did go a long way to support the claim or position maintained by some commentators on the earlier demonstration. The second group of protesters said that they are comfortable with the new tax directions from the government, indicating that they will wholeheartedly comply with the tax reforms. They hinted that the first group which protested against the reforms was a gathering of people who were favoured by the old system, possibly "agberos" or those who worked for the previous sheriffs in the state as their go-betweens and enforcers of the tax collection then such as those who bought or were given 'revenue windows' to man and harvest from.
From the foregoing, it becomes very pertinent to pay keen attention to what Anambra really wants. For me, the state needs a working tax system where every kobo generated under genuine stance as tax must go directly into the coffers of the state. There is no need for citizens to pay taxes through third persons. I would deem it a waste of time, energy and resources arguing on a contrary view.
Given the huge challenges facing Anambra and the paucity of funds, the state doesn't need any human face or hands outside those of the appropriate agencies of government such as designated tax offices, banks and their POS operators on revenue collection. For obvious reasons, Anambra does not need any third person as enforcer of any task collection in the state. Persons who were privileged to have been given or allowed to buy such windows in the past, in my opinion, should thank their stars for having enjoyed such privilege while it lasted. Anambra, under Prof. Soludo's government is all about, offering 'Solution' to our past mistakes and for advancing better ways of moving forward.
We cannot go back to the dark days of selling IGR windows to the privileged few who only enriched themselves and gave just peanuts to the state. We cannot go back to that dark age. It will be suicidal if Anambra thinks of it again. Indeed, the state is expected to undergo a series of solid transformation as promised by our new governor who said that he will make Anambra State a smart mega city, an industrial hub, a liveable and prosperous homeland. That's the contract he signed with Ndi Anambra. Thus, he has promised bequeathing modern technology and infrastructural development to the state and to turn the state to an industrialised centre like what obtains today in Dubai and Taiwan.
Soludo's words: "We will transform Anambra to become the Dubai and Taiwan of Africa." His dream is to bring Anambra to the world and the world to Anambra. The governor is gradually walking his talk as already shown in Oba where a major wholesales drugs market is to be cited. Currently, in Onitsha and its environs, illegally erected structures are being leveled for the betterment of society. The new Anambra of Prof. Soludo's era is surely and consciously emerging, even as the governor has declared total war on all Anambra roads with another firm promise of constructing new 220km roads within the state once the rains stop. Suing for understanding, Mr. Madiebo, Chairman state's IGR team, "Ndi Anambra have to partner with the state government to ensure that we grow our revenue and pay to the government rather than to special interests." For him too, that is the way we should work to make our state grow. I join him in calling on Ndi Anambra from all sectors, to work with the state government in building the Anambra State of our dream.
At this juncture, let me clearly say, that once the citizens concur and find it deserving to cooperate with the Soludo's digitalized taxing system, Ndi Anambra deserve the desired development ideal with the tax generated. I therefore, hereby advised Prof. Soludo to also look into human capital development and reduce poverty in Anambra State, bearing in mind that inflation in the country today stands at 13.6%.
Anambra needs her tax intact in order to execute the many projects on her hand. Let us also recall that the governor has boldly declared that the state has no money saved anywhere to execute the projects or even run the business of governance. He therefore laid a loan application of about one hundred billion naira (N100, 000,000,000.00) before Anambra law makers, an application which got the approval of the house just last Thursday, 21st of July, 2022. Fact, it is, that this loan must be paid back and in full too; workers' salaries, pensions, gratuities; maintenance of existing infrastructures in the state and a lot more are all what Anambra needs the taxes for. No doubt, she needs to get the taxes directly from the taxpayers as at when due, by itself too.
These said, I want to strongly and convincily stand on the side of the government in the ongoing tax reform issue. I completely agree with the tax reforms and wholeheartedly support the government's determination to pursue its dreams of making Anambra great. I am also calling on all Stakeholders, citizens as well as all residents of Anambra to accept and follow the tax reforms with a good (open) heart as it is meant for the good of Anambra State and its people.
Let me quickly observe that most European countries have no sea port, no crude oil or such mineral resources as we have, not even the huge population we have here. They do not also have the wonderful weather and fertile land we have here in Anambra State and in Africa generally. Austria, for instance, will serve as a good example here. My sojourn in this rich country for many years as a student and later an entrepreneur and also within my efforts to travel round that peaceful and quiet land — from Graz to Gleisdorf, Hartberg, Mödling, Wiener Neustadt, Sankt Pölten, Schwechat, Vienna, to Innsbruck and Kärntern, Sankt Veit an der Glan, Klagenfurt am Wörthersee, Klagenfurt, Villach, from Mariazell down to Bruck an der Mur and up to Linz, Bruck an der Großglocknerstraße (Salzburg) again, then to Tirol, Vorarlberg; and many more — showed that the country has practically no natural resource, nothing, none of those things named 'ab ovo'. Yet, Austria is one of the richest countries of the world today.
The western countries have been able to get where they are today due to their functional taxing systems and the sincere efforts made by their leaders and governments with the total cooperations from the citizens to develop their nations. Austria occupies an enviable position amongst the nations of the world today because of her active, working and well enforced taxation and revenue generating systems that come from virtually all the nooks and crannies of life there. From business activities, including but not limited to all sales, purchases, services rendered (used or bought), public park slots or spaces, state's public transportation systems, amusement and tourism parks to fines accruing from over speeding of vehicles, illegal parking of vehicles, pollution, use of vehicles without road worthiness or driving on the express without the permission or sticker authorizing such cruise, driving while drunk or without the driving licence, fighting, to mention but a few, government derives tax revenue.
While I encourage Gov. Soludo, to make these happen in Anambra State. I beckon in particular, Ndi Anambra, to support the new digitalized taxing system which will lead to infrastructural and human capital development.
A Greater Anambra Is Achievable Under Soludo!