Housewife Jailed 3 Years For Stealing Clothes At The Market
Posted on September 27, 2017
CYRIACUS IZUEKWE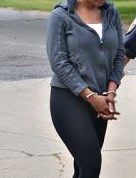 A 33-year old woman, Mercy Ameh has been sentenced to three years imprisonment without an option of fine for stealing clothes at the popular Aswani Market in Lagos.
The woman pleaded guilty before the Isolo Magistrates court where she was arraigned for conspiracy and stealing. The presiding Magistrate, Mrs O.A. Adedayo found her guilty and jailed her accordingly.
The incident happened at the market located along the Oshodi/ Apapa Expressway in Lagos. P.M.EXPRESS reports that the convict went to the market and pretended as if she went to buy some items but went there to steal.
She admitted before the court that she stole a bag containing clothes belonging to one Mrs Atunike Adeniyi worth about N1.4m. P.M.EXPRESS gathered that the owner, Adeniyi  kept the bag at a place and was attending to other customers when Ameh targeted her and stole the items.
When the owner later checked the items and discovered that they were missing, she raised alarm that alerted other traders present in the market who joined her in searching for the bag. While Ameh was escaping, she was caught and the traders attempted to mob her before the police at Aswani Division intervened and rescued her.
She was taken to the police station where she confessed to the crime and the exhibits were recovered from her. She was subsequently charged before Isolo Magistrates court for the alleged offence. She pleaded guilty and asked for leniency.
However, the prosecutor, female Inspector Rita Momah, presented the facts and urged the court to sentence her accordingly so that it will serve as deterrent to those who might try such criminal conduct.
The court found her guilty as charged and sentenced her for one year for conspiracy and two years imprisonment for stealing accordingly. However, the convict will be spending the next two years in prison custody because the court ordered that the sentence should run concurrently. P.M.EXPRESS gathered that Ameh was married and had children but her husband refused to show up because of the shame.