APC 'Considering' Compensation For Rivers Stakeholders – Ganduje
Posted on September 27, 2023
OMEIZA AJAYI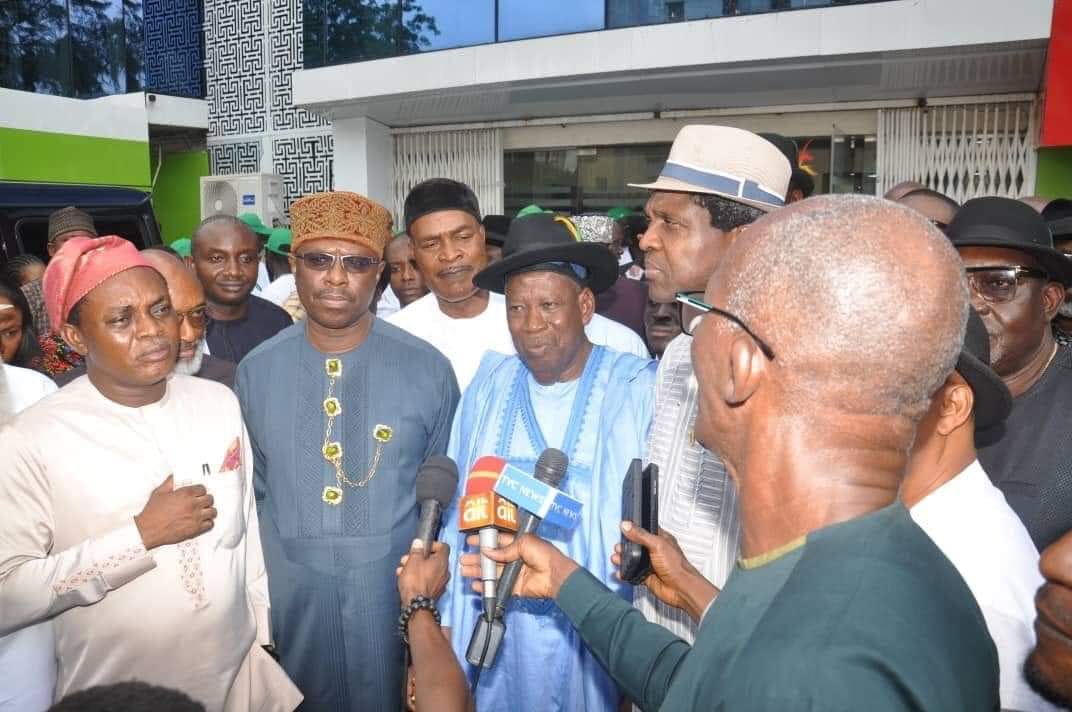 Following complaints by its Rivers State chapter that the President Bola Tinubu administration has only appointed opposition elements from the state into public offices, the National Chairman of the ruling All Progressives Congress APC, Dr Abdullahi Ganduje, has promised that the party would look into how best to compensate its teeming supporters in Rivers.
Ganduje made the pledge on Tuesday in Abuja when he received leaders and stakeholders of the party from Rivers state, led by Hon. Dakuku Peterside and Governorship Candidate of the party in the last election, Tonye Cole.
The leaders had complained fo non-patronage by the Tinubu administration, lamenting that opposition elements, who tried to kill the APC in the state, are now the ones enjoying government benefits.
While he conceded that it was painful to have lost the state to the opposition, Ganduje however, urged the leaders to open the doors of the party to those who left it in the past and chieftains of other parties, who are desirous if pitching their tents with the APC.
He said; "There is no doubt Rivers State is a very important state. It is a swing state for election in Nigeria. It is an oil rich state, which is important not only to the state but to the nation. The population is there and it is important during the election. The enlightenment for people to come out for election which is important".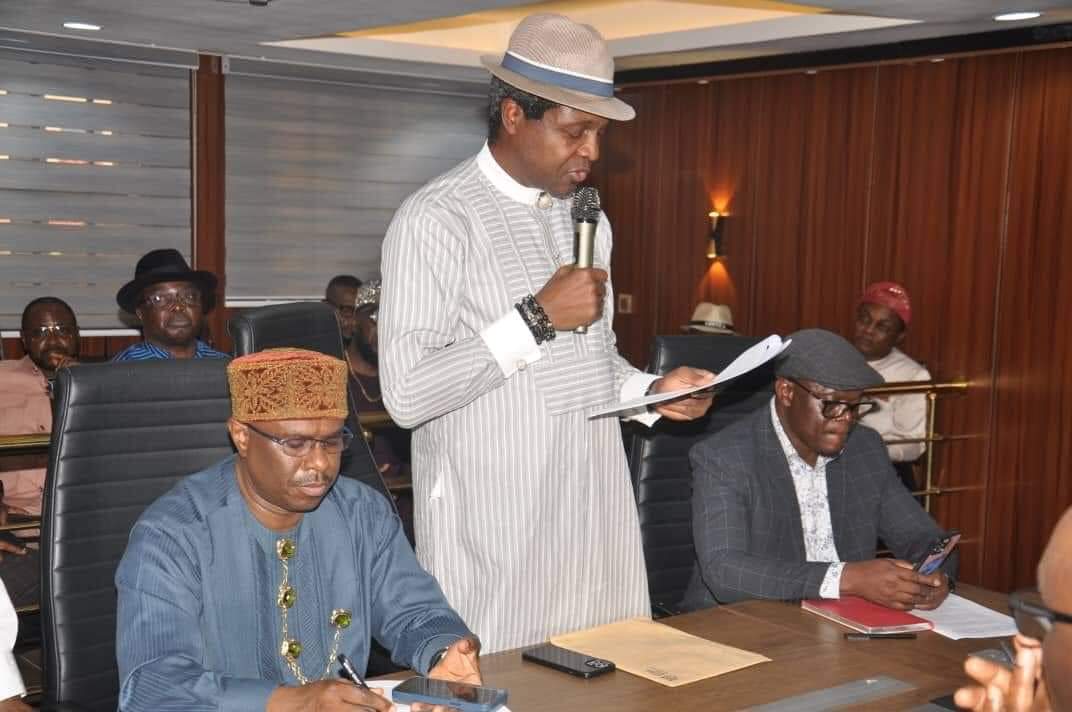 "In Port Harcourt, we had convention and I knew the crowd and it is still ringing in my head. We know how important your state is in politics. So, we assure you the founding members of APC in Rivers State, we know how much you suffered. We cannot allow your sufferings to wither away like that. We will do all our best to protect you. Compensation in politics is very important. So, we assure you, we are taking this up for consideration. We have your leadership. The gubernatorial candidate is here. The party chairman and other calibre of members are here."
"The APC as we know, in Rivers State, very many of you left the party to form another party, to contest, but I think with this your determination to rebuild the party, we urge you to create an even environment, to keep your doors open, so that those who left the party no matter how big they are in another party, where they went for sabbatical leave, let them come back to their original base – to their original employers. You know you can go on sabbatical leave and after a year, you come back. Create an even environment so that they can come back to the party."
"Also, some people who have not been in the party but are in another. We will also like them to join the party. You will keep your doors open as well because what we need is to rebuild our party so that we become solid. The original members of APC as we told you in APC in Rivers State will always remain the backbone of the party. But you need to keep your house in order and solid. You need to open your house for others to come so that we build the state because it is better to be a servant in paradise than to be a king in hell."
"For this compensation, we will take it very seriously. If there is any general policy that has affected that, then we should take note for compensation in that respect", he added.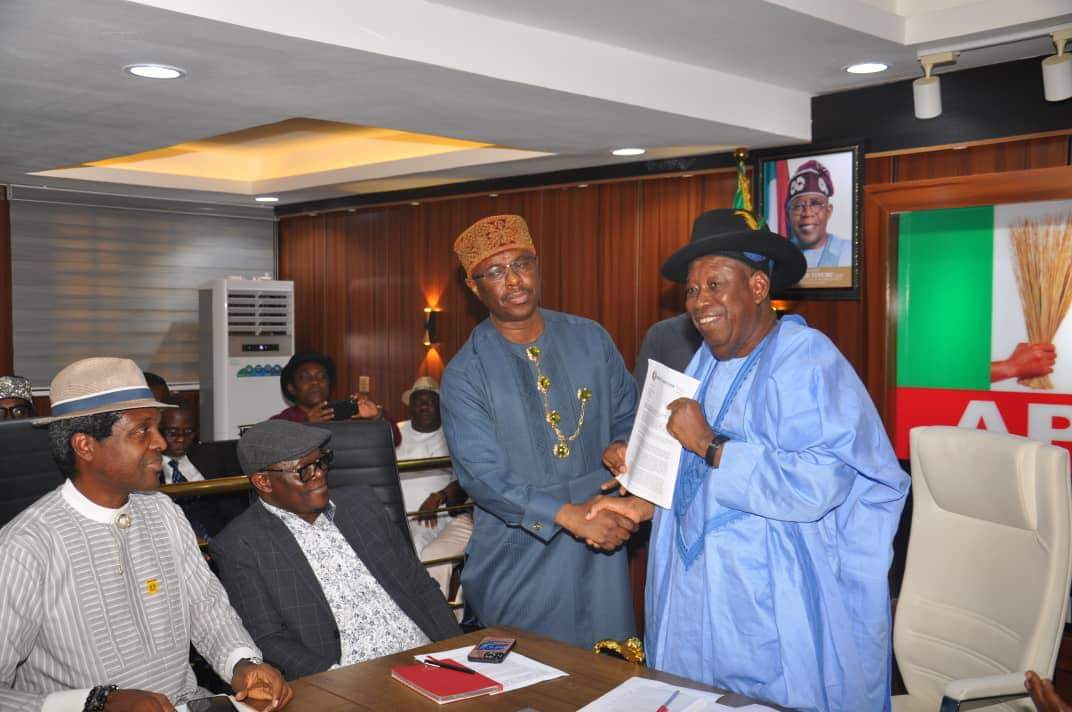 Earlier, Cole said the Rivers State APC is now one of the most challenged in Nigeria, saying since the formation of the APC in 2013, the Rivers chapter has been hit with mindless violence and damage.
"Since then, we have lost track of the number of bodies and can't say how many of our member's property have been lost to political violence."
"Without doubt, we can say that any small gain we made after the blatant assault on democracy and our right to freely choose our leaders and representatives in 2015, and the rerun elections of 2016 were lost due to the chaos that occurred during the 2018 Congresses and the judgement that took our candidates off the ballot for 2019."
"However, our legitimate challenge to the electoral malfeasance visited on us by a combination of factors under an APC-led Federal Government sabotaged our best and honest efforts this year. Not only were our gubernatorial candidates and other candidates not allowed to get materials from INEC to file their petitions at the Tribunals after the elections on February 25 and March 18, 2023, but our party also withdrew as a petitioner soon after we completed the filing process. That has never happened in the history of Nigeria's major political parties. The party that sponsored our candidates pulled the rug beneath their feet when the party was needed the most."
"If the event described above shocked us a little, what happened next was that card-carrying PDP members of Rivers State got appointments in our APC Federal Government left us completely confused and very upset. Those being rewarded are PDP members, who spent huge State resources trying to destroy APC in Rivers State since 2013 and failed, primarily because these loyal APC members here resisted them fiercely."
"Your Excellency would be shocked that as we address you in this meeting, the Rivers State Chapter of the APC has no representation at any level of governance in our country. There isn't a single Rivers APC member appointed at any level of the Federal, State or Local Government. Things are much worse now than they were in 2015 and we are being foreclosed from exercising our right to challenge the results of elections that do not represent the expressed will of the people of Rivers State", he added.
The leaders however, thanked President Tinubu for giving the go-ahead for work to begin on the Eleme-Akwa Ibom stretch of the East-West Road as well as the award of contract for the construction of the Lagos-Calabar Coastal Road.
Categorised as : News, Politics
No Comments »