Fresh Human Parts Are Useful For Money Rituals – Native Doctor
Posted on February 18, 2021
CYRIACUS IZUEKWE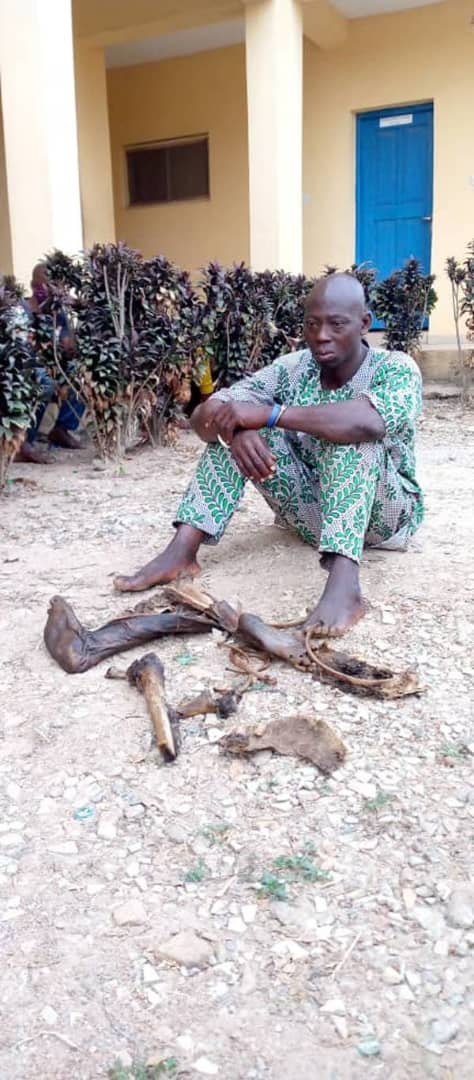 A 40-year old native doctor, Adeboye Moshood, who was caught with fresh human legs and other human body parts, has revealed that those items were useful for money rituals and that was why he cut them off from human body.
P.M.EXPRESS reports that the suspect, Moshood, was arrested and paraded by the Osun State Police Command in Oshogbo town for being in possession of human parts.
This was confirmed during the parade while speaking to journalists at the State Police Command Headquarters by the Commissioner of Police, CP Olawale Olokode.
The Police boss said that Moshood, who is a native doctor, confessed to have cut off the human legs and flesh at Iworo area of Gbongan, Ayedaade Local Government Area of the state.
"The Police received a tip-off that the man brought human parts into his house around 8:30am on Tuesday leading operatives of the force to invade his house to effect his arrest."
"He confessed to have stolen the two human legs and the flesh from a body at Iworo area of Gbongan town."
The suspect, Moshood, admitted that he was in possession of the items and said he found the dead body on his way to Modakeke at Iwaro and discovered it would be useful for money rituals.
"I went to Modakeke on Monday and while I was coming, I stopped by at Iwaro and saw a corpse. I was scared but I realised it will be useful for me then I cut it out for money rituals. I am a farmer and herbalist", he said.
The Police have since started investigation over his claim to determine if he actually murdered the victim and cut off the parts for money rituals as he claimed that they were useful for that.
However, the CP has assured that Moshood will be charged before Court after the conclusion of investigation over his conduct, which attracts several years of imprisonment if he is tried and found guilty before the Court.