I Just Tasted It – Says Boy, 14, Caught Having Sex With Girl, 5
Posted on February 14, 2020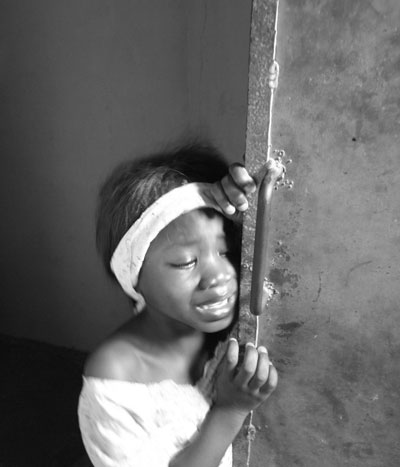 CYRIACUS IZUEKWE

The curiosity of a 14-year old boy to experience sex has landed him in trouble after he was allegedly caught having sex with a 5-year old girl in their house in Lagos.
P.M.EXPRESS reports that the boy reportedly confessed to the Police that he had heard so much about sex and decided to taste it.
Consequently he was arrested and now facing a charge for defilement which attracts several years of imprisonment if he is charged before the Court and found guilty.
The incident happened at Rasheed Street, Coconut Bus Stop, Olodi Apapa area of Lagos, where they reside.

It was gathered that the boy lured the victim to an apartment, removed her pant and engaged her in sex before they were caught by their neighbours who informed the victim's parents.

The matter was reported to the Police in the area and the boy was arrested. He was later transferred to the Gender Section of the Police Command for interrogation.
During interrogation, the boy reportedly confessed to the crime and was then charged before the Ogba Magistrates Court for the alleged offence.
He pleaded not guilty.
The prosecutor, Supol Ezekiel Ayorinde, mentioned to the Court that it was a case of defilement between two minors and that it should be referred to the DPP for advice.
Hence, the Presiding Magistrate, Mrs. B.O. Osunsanmi, ordered the defendant to be remanded in correctional centre and directed the prosecutor to duplicate the file and send to the DPP for advice.
The matter was adjourned till 26th March, 2020.
The defendant may be transferred to the High Court for the alleged offence if the DPP finds him culpable for the alleged offence.
P.M.EXPRESS confirmed the identities of both the defendant and the victim but withheld it in line with the policy of the organisation.